Top Predictions for Advertising Agencies in 2022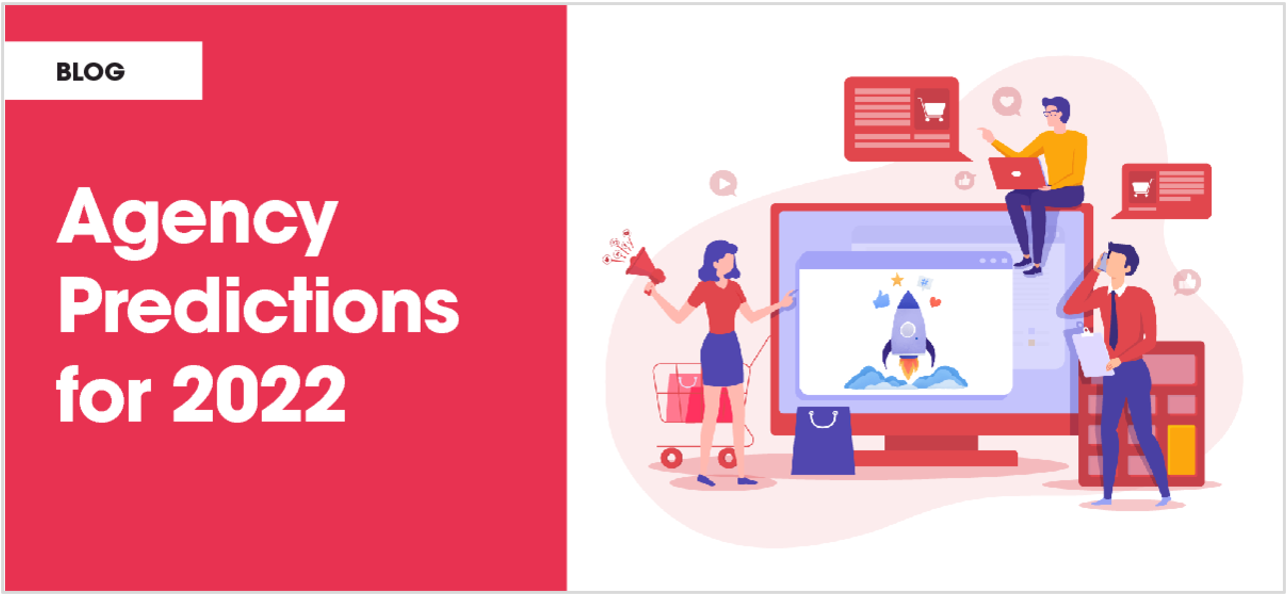 It's been a turbulent couple of years for agencies but things are turning around for the industry. The initial shock of the pandemic seems to have been weathered with ad spend recovering in 2021 and expected to continue to grow in 2022. The U.S. ad market is forecast to exceed $300 billion and the global ad market over $700 billion.
As clients begin to spend again and work starts flying in the door, we're facing new
challenges for next year and beyond. So here is our list of agency predictions for 2022!
Pressure to level up resourcing and unleash talent
Agencies are still recovering from mass layoffs in 2020 which left big gaps in skillsets and headcounts across the industry. In addition to the economic shock of 2020 there was a noticeable change in the labour market and working preferences in 2021. Many agency staff have decided to carve out new paths in life (see 'The Great Resignation') while others went freelance or moved to new companies offering better flexibility with work. Agency teams this year were expected to deliver a consistent output of content and projects with diminishing resources.
Due to the pressure associated with skills shortages and understaffing, agencies need to use their talent more effectively in 2022 as client expectations have not declined in accordance with economic changes. Agencies should be set up and ready to tap into freelancer market to fill gaps in skills and to be able to take on ambitious projects. Agency management software can help build skill profiles, identify talent and utilize AI to unleash talent!
Intelligent creative operations will become the norm
Agencies will aggressively pursue 'intelligent creative operations' embedding tech automation into the creative process. What are intelligent creative ops? Creative problem solving wherein creatives conceive, design, produce, and activate business solutions using AI and intelligent software. This incorporates smart workflows that will speed up approvals, meet tight deadlines, and make sure the right people contribute and utilise talent during the creative process.


Client & agency relationships will need to draw closer, even if physically apart
More agency teams are becoming virtual and spanning the globe so it's more important than ever to secure agency-client relationships. Operating from different locations or time zones is not an excuse to be unresponsive or slow in delivery so agencies will need to keep close to their clients, regardless of circumstances. Collaboration and communication software will be key to maintaining regular and timely communications between agency and client. Over populated email inboxes or constant messenger notifications tend to drive people apart rather than bring teams together. Therein lies the golden rule of agency – client communications – it's the quality of the communication, not the quantity, that counts.


Agencies will look for alignment across offices and regions

There is a great desire among global agency networks to unify technology and get maximum value from regional investments. Agencies that align their P&L across all office locations facilitates easier collaboration and opens the opportunity for agency teams to utilise tools that may not have been available to them previously.

More organisations will look to move capabilities inhouse
A Forrester study in 2021 discovered that 44% of CMOs said they plan to move more marketing in house over the next year. Desire for greater transparency in spending, control over data, and assurance of compliance are among the biggest factors driving media in-housing. The only way agencies can respond to this shift is by showcasing their value to clients and dismissing any notions that inhouse teams perform better. Again, technology will be critical to agencies being able to do so!
Diversity, equality and inclusion must be embedded into agency eco system
Agencies that don't aggressively pursue a DEI policy will stand out in 2022 for the wrong reasons. Having a diverse agency means your company is seen as more ethically and socially responsible than those who are not actively practicing DEI. It also gives agencies a competitive advantage as a more inclusive team will be seen as a relatable group of people for brands to work with.
Time to invest in culture for the post pandemic world
Agencies have long been considered a vibrant workplace with creative and energetic people uniting to create a fusion of ideas. It looks like remote work is here to stay (at least in a hybrid role) so agencies will have to find new ways to strengthen culture, deal with emotional conflicts, build team spirit, and onboard new staff in 2022. Teleconferencing tools can only do so much therefore we expect significant investment from executives in technologies and processes that can improve culture and work experience for staff.