How to Boost your Marketing Operations Maturity in 2020
Are you aware of the performance of your core marketing processes? Have you ever evaluated the maturity of your marketing operations? With the ever expanding marketing function it has never been as important to be confident in your core processes. Take some time out to find out more about these pillars of operations and how you can boost areas that need development.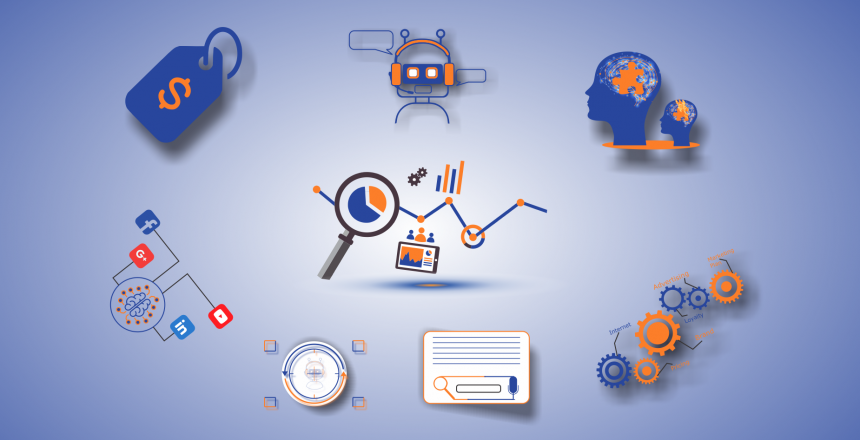 Marketing and operations were not always terms that resided in the same sentence. Traditionally, marketing's contribution revolved around creativity, colors and content. Since the arrival of the marketing operations concept in the mid noughties, marketing operations has added a new dimension to the marketing discipline in terms of business operations and performance.
Marketing operations is a function that has planted itself at the core of Marketing, IT, Operations and Sales. Marketing ops is now a great aligner – its primary function is to enable marketing to adapt quickly to changes in the market, in business strategy, and in customer behaviour. Marketing can only do this by contributing and staking a claim in various aspects of the business. These are areas that historically Marketing wouldn't have had a significant role within such as planning, process and measurement.
The Marketing Ops Landscape
Since the role of marketing operations was first recognized by analyst firm IDC in 2005, it has evolved rapidly. The role of marketing ops now includes performance measurement and reporting, budgeting and planning, data management, project management, strategic planning, organization bench-marking and assessments, analytics, and predictive modelling.
In 2011, Chiefmartec.com introduced the Marketing Technology Landscape Graphic in an attempt to assemble all known marketing technologies on offer to marketers. The graphic contained 150 vendors then and now displays over 7,000 technologies.
IMAGE SOURCE ChiefMartec.com
Forrester's Core Marketing Processes
Most people are aware of the importance of operations within marketing but aren't sure what areas they need to be assessing or improving. In late 2018, analyst firm Forrester developed a range of core marketing processes that marketers need to ensure are effectively managed as part of their marketing ops.
These processes underpin the marketing function and cover a range of skills and departments across planning, finance, people management, content production and brand management. As you can see from the table below, there is a diverse range of skills and processes represented from planning to people management and briefs to brand management. In addition to outlining core processes, Forrester also reinforces the importance of automation throughout the cycle. The analyst firm identified manual processes and spreadsheet-based workflows as major hindrances to evolution of a business.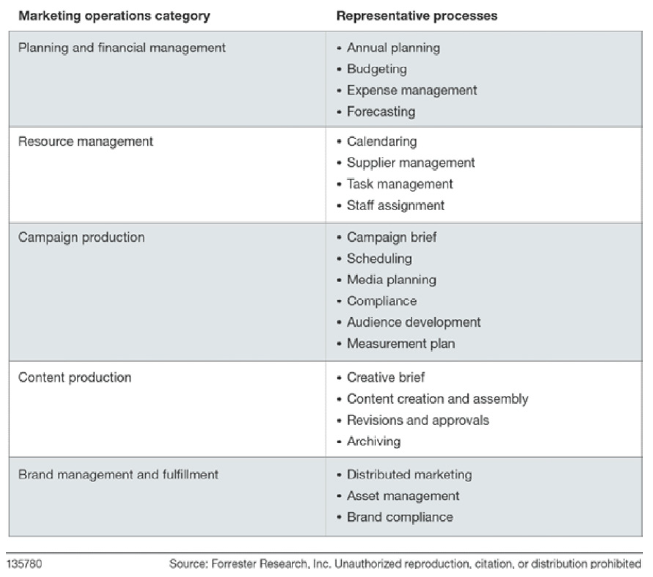 Screendragon's Core Marketing Processes for Marketing Ops Maturity
Considering Forrester's core marketing processes and other related research, Screendragon has developed a simple model for evaluating marketing operations maturity in the area of four core marketing processes; budgeting, resourcing, campaigns and brand management.
Project Budgets relates to estimating financial costs when creating a project, what systems are used, who is typically involved and whether the process is effective.
Resource Management administers people and talent. The most basic definition of resource management is that it gets the right people to do the right work at the right time.
Campaign Management refers to the planning, execution, delivery and analysis of a marketing initiative. It is critical to achieving marketing operations success. Creative briefs, campaign scheduling (marketing calendar), content approvals, and content distribution and repurposing are all fundamental elements of a coherent campaign management ethos.
The final core process within the Screendragon Maturity Model is Brand Management. This process ensures that a company's brand is consistent across marketing campaigns and that marketing assets meet the relevant requirements. Brand guidelines, campaign packs, content sharing and legal approval form the basis for a brand management culture.
Boosting your marketing processes
If you'd like tips to boost project budgeting, resourcing, campaign management and brand management then check out Screendragon's free guidebook 'How to Achieve Marketing Operations Maturity'. Within the guidebook you will find tips such as important considerations for budgeting, how to introduce resource management, benefits of a well written brief and brand management for beginners. It would be a shame to miss it!
Testing your level of maturity
When you feel that you have a good grasp of core marketing process then the next step is to evaluate your maturity in each aspect. Screendragon has developed a self-assessment tool that will evaluate your maturity in Project Budgets, Resource Management, Campaign Management and Brand Management. You can take any of the tests for free and will receive a personalized score and set of recommendations upon completion! Are you ready to put your experience to the test?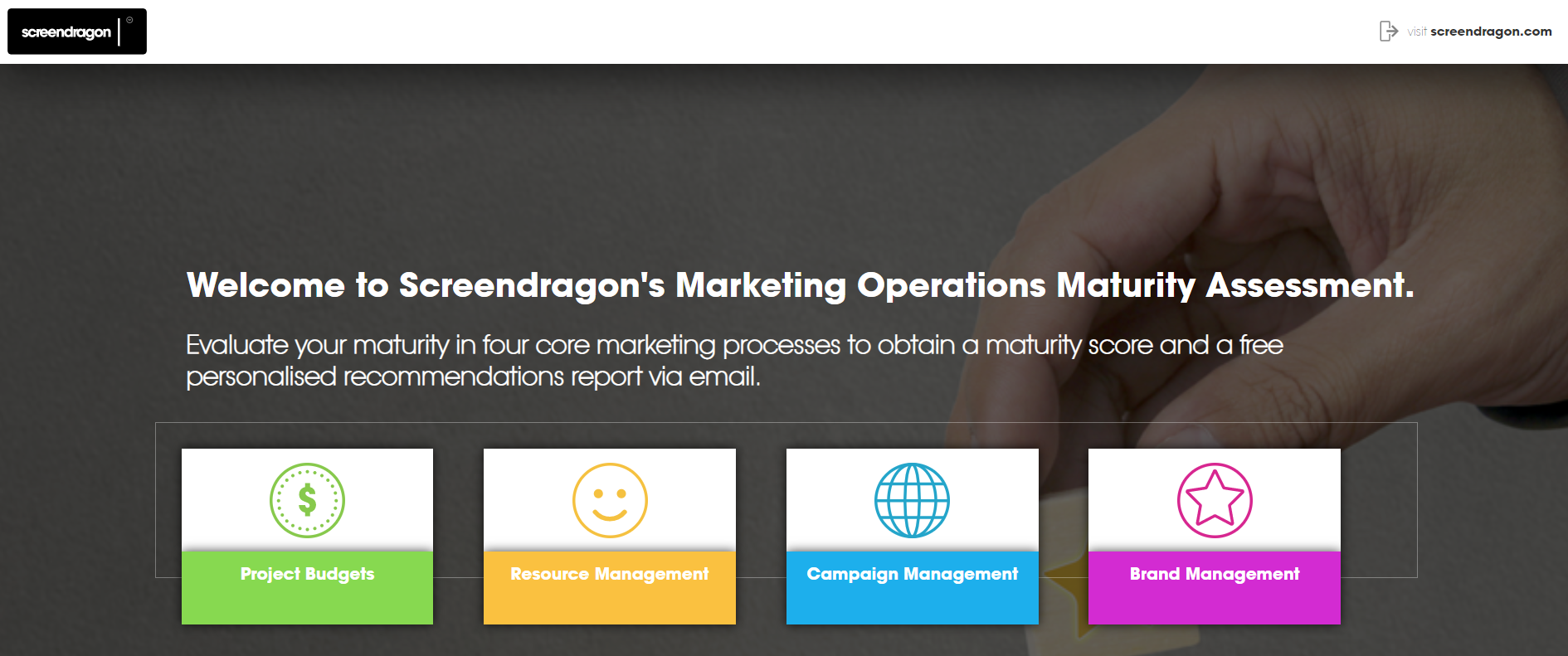 Screendragon Marketing Operations Software
Screendragon's MarketingOS is an end-to-end marketing operations software solution that can boost performance in marketing teams, reduce the workload and increase speed to market. If you'd like to learn more about Screendragon, why not schedule a 30 minute no obligation demo today?