Level up Your KPI Reporting with New Screendragon Visuals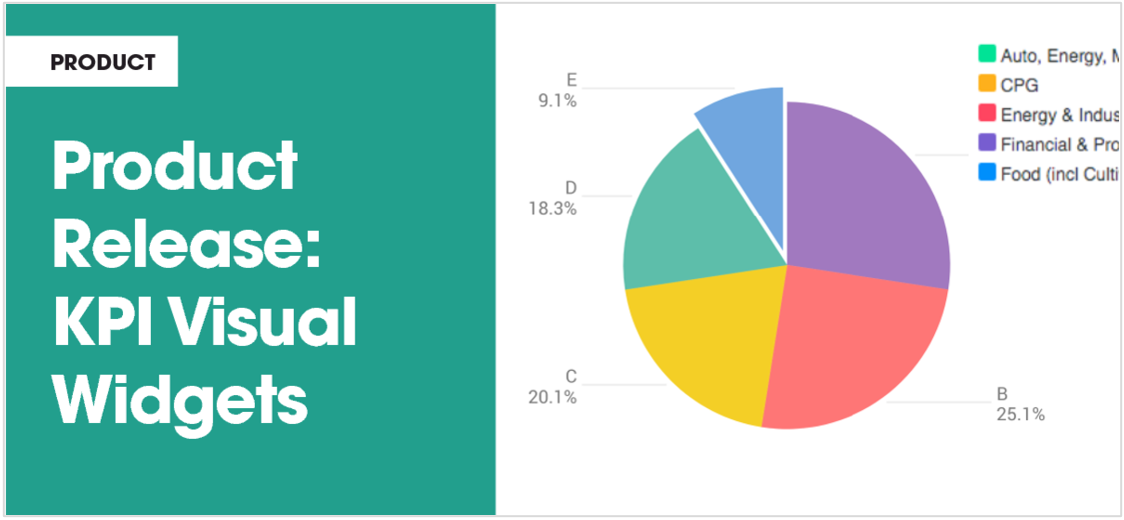 Data is the lifeblood of any business team or agency. An IDC survey in 2021 found that companies with strong data cultures experienced benefits across many areas including speed-to-market, customer satisfaction, and profitability. The report states 'data and analytics form the backbone of digital transformation efforts but data on its own is meaningless. It has to be made available in the right form, in the right time, and with the necessary context to drive business outcomes.'
On that basis, Screendragon are excited to introduce our new KPI dashboards that will make visualization of information and data interpretation faster, easier, and more actionable than ever before. Our built in and fully customizable visual widgets will make project managers and stakeholders more confident in getting answers and uncovering insights quicker.
Powerful KPI Metrics & Visuals
Project Volume
Want a very quick way to see how busy your company or a specific team is? Use the project volume widget to see how many projects are currently active within the organization. If you want more granular information, use metadata to display project volume by customer, country, brand, team and more.
Workflow Status
If you're a project manager, you will want fast and easy access to the status of work in the delivery process. This workflow widget presents a visual breakdown of all workflow statuses to understand quickly what progressing as normal or where work is stuck in the flow.
Workflow Throughput
This is arguably the most important metric among our clients – how fast are we getting work out the door! Business teams and agencies will have agreed SLAs with their internal and external clients setting out benchmark delivery timings – for example, average timings on how fast work takes from briefing in-take to content delivery. The workflow throughput widget will decipher all this data to give you visual results on your performance across types of jobs & processes. An instant activity health check that can be done every time you login in to Screendragon!
Workflow Volume
Need to see how many workflows are required for a particular project or activity? The workflow volume visual will help present useful information around workloads required to get jobs done in certain segments, locations, time periods, etc.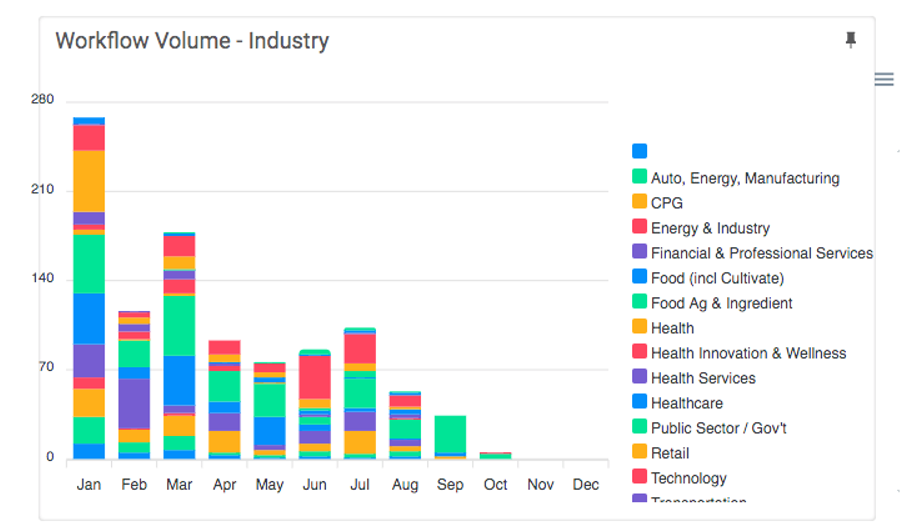 Project Budgets
So, what about ROI and financial reports you ask? It's time to introduce our new project budget visuals. Using these widgets you can see project budget estimates, total resourced, and actuals. The project budget overview widget will present estimated vs resourced vs actuals which may be the first widget added to your dashboard if you're a project manager or ROI conscious stakeholder.
Advantages to Screendragon KPI visuals
In addition to the product gains outlined above you can take expect to benefit from the KPI visuals in even more ways below!
Customizable
Every widget is fully customizable which means you can build visuals that make your job easier while other teams and individuals can create dashboards that fit their own roles and objectives.
Limitless exploration
There is no limit to the number of widgets that can be created so you can leverage data from any area of the organization to level up your project reporting and performance.
Non-technical
Screendragon widgets and visuals are easy to build and share so you'll find new angles of reporting and chart types as you explore this area.
Work smarter
As mentioned in our introduction, data is arguably the most used term in a modern boardroom. These new visuals will enable you to make more data driven decisions – spot trends faster and predict outcomes.
See more of Screendragon
If you have a specific question on our new KPI reporting visuals then please contact our sales team at demo@screendragon.com.
Want to see more of us or see these visuals in action? Why not schedule a 30 minute product introduction with our expert solutions team!