Q&A with our new Executive Chairman, Clive Sirkin.
Clive Sirkin recently joined Screendragon as Executive Chairman. Clive most recently served as Chief Growth Officer of Kellogg Company and is a former Chief Marketing Officer at Kimberly Clark. We sat down with Clive to chat about his personal experiences, why talent is currently being repressed and how you can help liberate your team!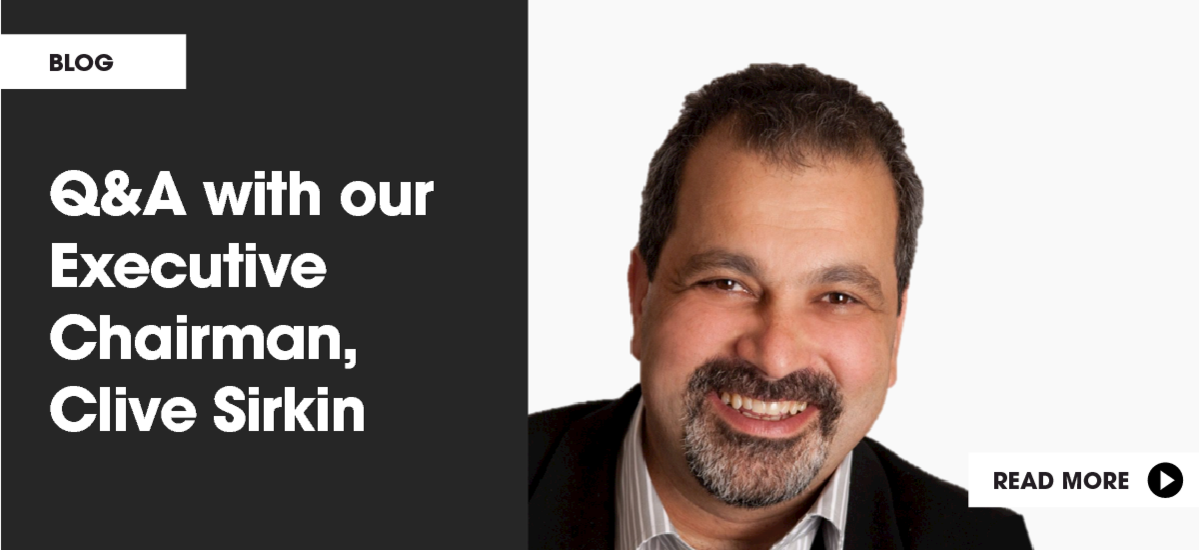 Can you give us a snapshot of your professional self?
I see myself as an ideas person, as a transformer and a change agent. Importantly, I see myself as a talent builder. I'd like to think of my professional self as simply this; Inspiring humans to think differently and giving them the oxygen to do something about those thoughts. I believe that's the best way to drive change, help people be their best self and create economic value.
When did you cross paths with Screendragon?
When appointed the Group Managing Director at Leo Burnett one of the first items on my agenda was to transform operations. We were burning margin on inefficiency. We were wasting our amazing talent by being inefficient and exhausting them on manual processes. We were letting this lack of discipline negatively impact our creativity. I wanted to install an end-to-end project, process, resource and content management platform, and everyone I spoke to recommended Screendragon. The rest is history…
Speaking to your time at Leo Burnett, what were the most common pain points your agency encountered?
The first pain point is a big one – internal process friction. This happens when humans, process, organization structure, lack of visibility & communication all conspire to distract our talent from delivering the thing we value the most – creativity. Therefore I'm obsessed with tech platforms like Screendragon. It's not the tech, It's the human outcomes that great tech platforms enable that excite me.
Poor alignment is also a killer in creative organizations. This happens when people don't take the time to truly align – AT THE START OF ANY ENDEAVOR – on what success looks like. When people are working at cross purposes, bad things inevitably happen. This is why I always ask early in a conversation, "what does success look like to you?".
Where did Screendragon fit into your agency management process?
Everywhere & nowhere! Let me explain…
Everywhere: I think, at its best, Screendragon should operate as an end-to-end capability. I always encourage clients to deploy the platform in steps starting with the highest value use case and then expand as you gain command of the platform. Screendragon is a powerful platform with broad shoulders, and it scales with incredible ease.
Nowhere: I think the best technology should be "invisible". By this I mean it should not be operating in a way that says, "look at me" or "look how complex I am". Great tech platforms, like Screendragon should simply work in the background. Its complexity & sophistication should only be visible in its ability to make complex, sophisticated work appear easy and natural.
What were the most important metrics you used when managing agencies?
Only one. Everything must support and subordinate to this.
Quality of Ideas.
Or, more specifically, the commercial impact of the ideas the agency is delivering to their clients / with their clients.
Is there anything that you think managers are overlooking?
Managers often forget the most important concept and driver of success. Talent. Humans.
Sure there are tons of critical accountabilities & deliverables. Success, or more specifically, commercial success involves many moving parts, no doubt about it. That said, NOTHING happens without talent. Too often, managers lose sight of this and ultimately pay the price. As a manager, you should be thinking of yourself, more than anything else, as a talent leader. You should never overlook the critical importance of obsessing over how you enable talent. I'm not talking about posters on walls, blogs on the company website and speeches at company meetings. I'm talking about day-to-day leadership behavior focused on liberating your talent to operate at full potential. Companies spend an awful lot of time and money attracting talent to join the company. Then they inadvertently exhaust them with complex processes, unclear organizational design, poor use of skills, and so on.
In-house vs Hybrid vs Agency – what is the best approach/model and why?
It depends. Go back to the question: "What does success look like?" Before you dash into one versus the other, you should have a granular and thoughtful conversation about what success looks like. If your sole objective is to cut costs; you are not finished with this conversion. Cost cutting is not the primary reason you should do things; it may be an important consequential outcome, but not the reason. Also, don't presume these things are binary. Rather ask yourself a bigger question: "What should my agency ecosystem look like, including my marketing tech stack" and then choose a model from there.
How do you see the role of technology evolving in creative agencies and marketing organizations?
It is central. Agencies exist to help create commercial impact for their clients. They deliver this through ideas, so they need help conceiving and delivering these ideas. If agencies and marketing organizations are not spending serious time and calories thinking about their marketing tech stack and the evolving tech terrain, they are not going to be around for long.
Moving onto Kellogg's & Kimberly-Clark, what were the main differences between managing an agency versus managing an enterprise?
At the core of it, no real difference. Ultimately you have a vision, a strategy, and a plan that is designed to deliver on this strategy. You then need to execute, optimize and adjust based on a feedback loop. Ultimately, it's about leading people, or more appropriately, enabling talent to deliver on what they are capable of by clarifying, inspiring, empowering and enabling. It's about giving wonderful talent oxygen and removing barriers that prevent them from doing their best.
You need to navigate this while retaining your balance, humanity, humility and willingness to be honest about how you are screwing up (with me, A LOT) and how you're going to learn from this and improve; while keeping perspective and never forgetting what's important and what's not.
You used Screendragon as an agency and an enterprise, how did you benefit from Screendragon at an enterprise level?
It's the same, I don't see a difference. Screendragon serves a simple purpose; to remove process friction so teams, organizations, humans can devote their talent to accomplishing the outcomes that set out to accomplish versus exhausting themselves managing the beast.
You mention 'process friction' a lot in your commentary, what's your understanding of the term?
I've covered this a lot in this conversation. Simply put, companies need organization, processes, and policies to function and avoid anarchy. However, companies tend to add new processes on top of old ones (versus replace & simplify), and then attack process in parts without truly understanding the impact it has overall! They tend to start solving before they truly understand root cause. Often, companies tend to add processes and layers to organizations for defensive and political reasons. There is an industry built around this. I call it the "re industry" – reengineering / restructuring / reorganizing / rethinking etc. Billions are spent on this annually. All of this adds up and places a massive transactional tax on the people that are asked to deliver for the company. Eventually the talent in the organization gets broken down, exhausted , despondent, and uninspired. Companies should make attacking and removing process friction a top and ongoing priority. They should exhaust this priority before investing in the "re industry". Good collaboration technology sits at the heart of removing process friction. It's not THE answer, it's at the heart of the answer.