Screendragon is Listed in The 20 Most Promising Workflow Solution Providers of 2017 by CIO Review

2017 was a year to remember for Screendragon. Tech London Advocates recognised us as one of the Top 50 London Creative Tech Start-up Companies of 2017. One of our events – Adapt or Die: What Will a Future Agency Look Like – managed to garner the attention of the London agency community, proving to be a talking point even many months after the event. And, just before the year was out, from across the pond we received one hell of a nod from the prestigious CIO Review – they listed us as one of the 20 Most Promising Workflow Solution Providers of 2017!
This latest accolade comes from a distinguished panel of CEO's, CIO's, Analysts and the CIO Rewiew's Editorial Board. According to CIO Review "The 20 honoree companies (that have been shortlisted) are poised to be the next generation of leaders in providing solutions to influence and create significant impact in the market."
Screendragon is of course delighted to receive such an acknowledgement from a publication like CIO Review. CIO Review plays an important role in bridging the gap between enterprise IT vendors and buyers, by providing in-depth and informative analysis of enterprise solutions.
Screendragon CEO, Jan Quant, talked to CIO Review about Screendragon's role in 'making the complex simple' in this article.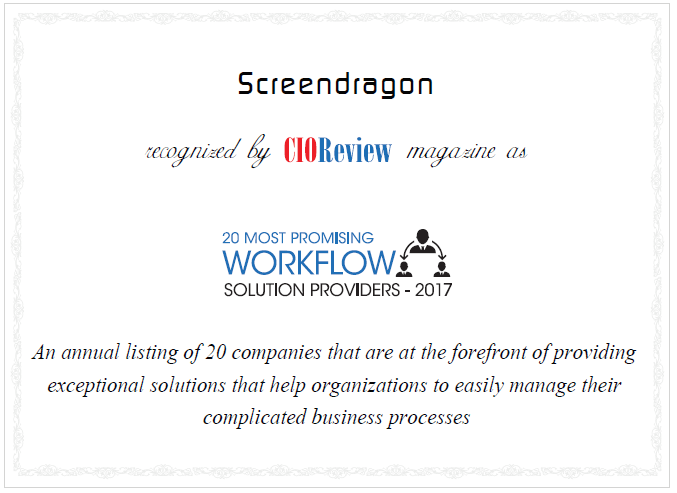 We look forward to continuing to drive innovation and growth as a workflow solution provider in 2018 and beyond!