Why Storytelling is the New Form of Collaboration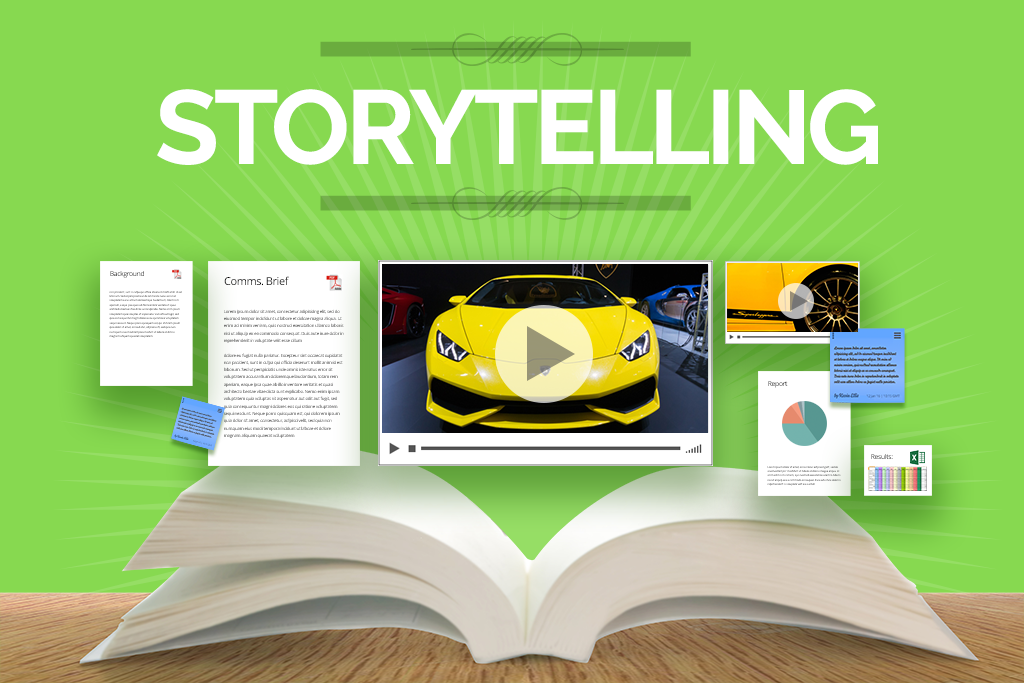 Creativity takes pride of place in the hearts and minds of marketing and advertising professionals. It is what sets you apart from your competitors, it is what drives your business forward, whether that be attracting new clients or gaining new sales. However, creativity isn't something that is easily achieved. Having an enthusiastic team of talented individuals is of course a good start. But, how do you bring these individuals together to really drive creativity and help produce results?
Collaborative storytelling is a new way of working in the creative space. It facilitates innovative thinking, teamwork and clear communication – all the ingredients required to promote creativity. "Today if you want to succeed as an entrepreneur, you also have to be a storyteller," said Virgin Founder, Richard Branson. The same is true of those working in the marketing and advertising space, perhaps even to a greater degree. The fast-paced nature of this industry places pressure on teams to churn out fresh ideas at the drop of a hat. If you fail to meet the demands set, then you're potentially giving your competitors the opportunity to swoop in and steal not only your thunder, but your clients or sales too.
Screendragon is process and project management software designed to meet the diverse needs of creative professionals. Having worked with leading global brands and agencies for the bones of 10 years, we realised there was a gap in the market for a tool that facilitated effective collaboration in this space. A tool that went beyond the standard one-armed collaboration approach of existing file sharing tools. It introduces teams to a new form of collaboration.
Tabletop is a real-time virtual space that everyone can contribute to simultaneously. It is designed to revolutionize virtual desktops and file sharing across the creative marketing professions. It's a place to meet, collaborate and innovate. Team members can mix visuals, files, sticky notes, drawings on one interactive canvas. Everyone can participate and collaborate together on the same screen. Of course, having this ability to build a story together in real time and visually map its progression is an especially stimulating experience for creative professionals. A one which lends itself to impressive results.
Our clients which include leading global brands and agencies, have used Tabletop to help them brainstorm for last-minute marketing campaigns, to conduct weekly agency meetings, to provide feedback on new prototypes/concepts and even to develop mood boards to assist with design projects. It's a completely versatile collaboration tool which consistently receives high uptake when adopted by teams. Its value is obvious from the get-go; communication is free-flowing, creative minds are stimulated, ideas are shared and stories are created. It enhances productivity tenfold and is conducive to the fast-paced environment of the marketing and advertising sector, where teams need to adapt to change fast. Also, Tabletop is easily accessible and functional to all types of teams, whether they're based on site, in another office location or work remotely.
Here are some more impressive features to check out:
Drag and drop artefacts (images, post-its, videos, documents) onto Tabletop and present them instantly on screen.
Visually organize ideas to provide better insights and understanding.
Caters for all rich media files

–

videos are automatically streamed, print ads automatically rendered and converted to zoomable high resolution images, large PowerPoints are compressed for fast viewing.
Access to a range of post-its and mind map template stencils.
Autosave enables you to leave Tabletop and return anytime to pick-up where you left off.
User access controls give you the ability to decide what attendees can do – move or open documents, upload documents, chat online etc.
Easily invite guests into a Tabletop meeting with email links.
If you want to move beyond the generic file sharing tools and give your team the opportunity to really spread their wings and create something special, Tabletop is your tool. It integrates seamelessly with our process and project management software so you can manage creative projects, processes and people all in one cloud based solution.