The State of Creative Operations in 2021 – The Results Are In!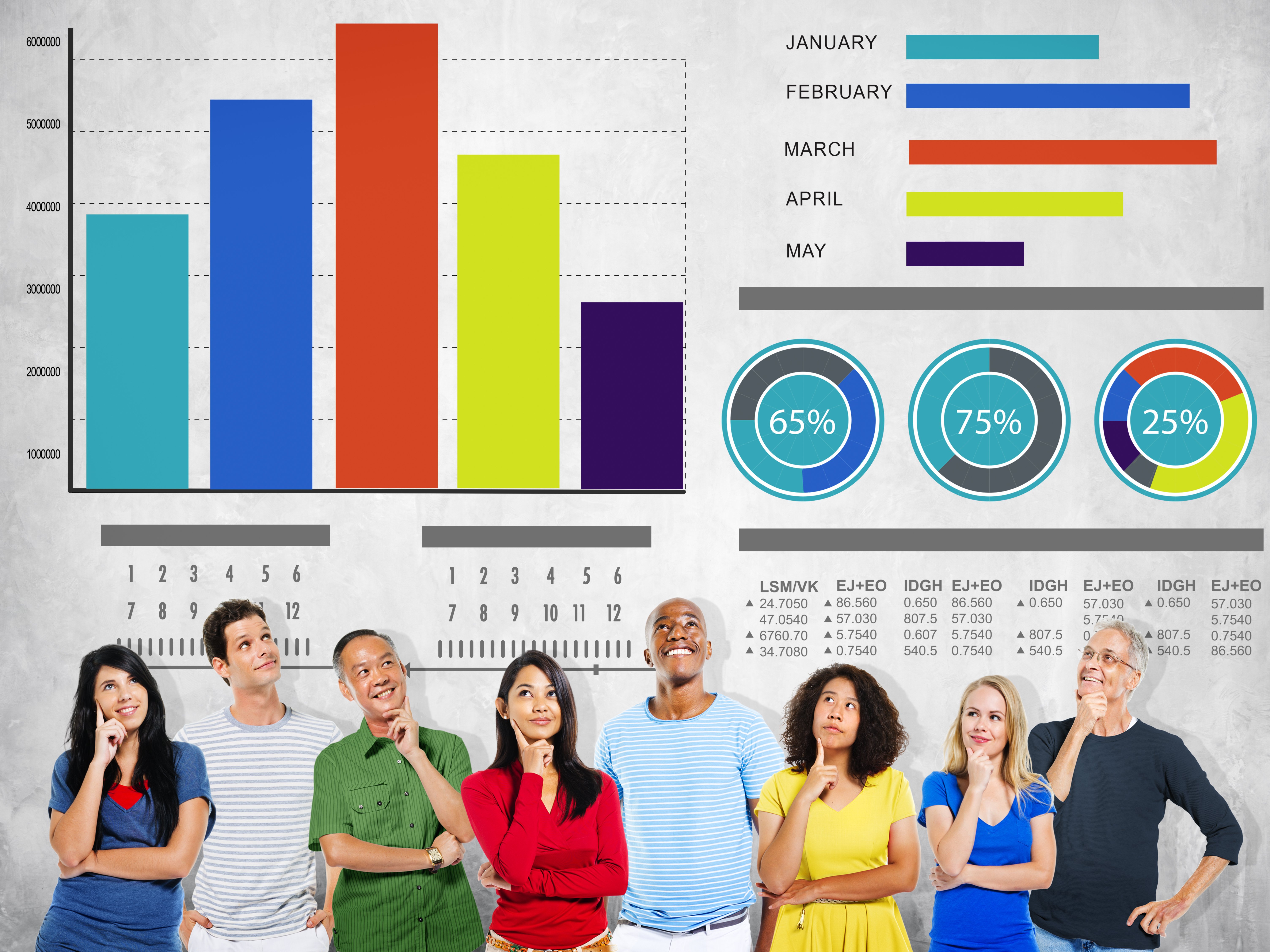 Just like 2020 before it, 2021 has tested the function of creative operations. Creative leaders are trying to juggle an increased demand in creative work with managing a borderless team and reduced budgets. Is technology helping to unite remote teams? Are creative leaders turning to freelancers or part-timers to fill gaps?
In the latest installment of The State of Creative Operations Report, we reveal some of the key findings from our recent survey conducted with creative leaders from across the globe. We dive deep into the creative ops landscape to give you a picture of how the creative team of 2021 is functioning – from ways of working, tools implemented, metrics measured and more.
Here is just a snapshot of The State of Creative Operations in 2021. You can download the complete report here.
The Creative Team of 2021: More Global, More Freelancers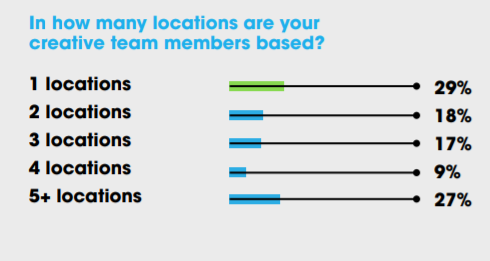 Creative teams are no longer based in one single location, instead team members are spread across multiple locations. In our survey, we found that nearly 30% of teams have members based in 5+ locations. Additionally, nearly 60% of teams are currently working 100% remotely.
On top of this, the pandemic seems to have brought about a shift in hiring practices. Our survey revealed that over 50% of creative leaders reported an increase in the number of freelancers/ part-time staff/ contract workers hired in 2021 when compared to pre-pandemic times. More companies are clearly looking for outside help to fill the skills gap. Is this a trend we will see more of in 2022 with the increasing pressures on creative teams?
The Role of Creative Operations Continues to Grow in Significance
When we ran this survey last year, we were at the start of a global pandemic and the future wasn't looking too promising. As a result, the majority of creative leaders we surveyed told us that they didn't expect to be hiring any new staff in the next year. Thankfully, that bleak outlook changed and this year, nearly 80% of the creative leaders we surveyed said they expect their creative team to grow in 2022.
The focus on creative operations isn't dissipating anytime soon either as more companies realise the benefits associated with streamlining their creative workflow for efficiency and cost gains. In 2018, just 18% of our respondents said they had a dedicated creative operations role in their organization, fast forward to 2021 and this number has jumped to 67%.
One of our respondents summed it up well when asked for their views about the future of creative operations. "I am a creative operations manager and due to the pandemic, my role became highlighted and seen as critical instead of optional. Managers across creative roles see me as an essential partner in how they meet goals and help grow and build talent."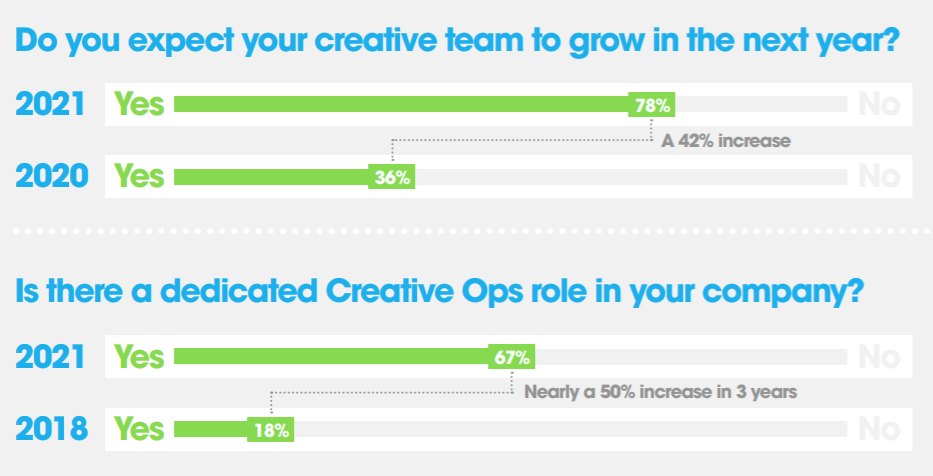 A Metric Driven Future for Creative Operations
In our survey in 2019, only 34% of creative leaders said they measure the value of creative operations. In this year's survey, that figure jumped by 18% to 52%. This upward
trajectory will no doubt continue as it has done, year on year, since we conducted the first ever industry wide survey on Creative Operations back in 2018.
Additionally, we found out what metrics creative leaders were measuring. 'Resource Utilization' was rated as the number one creative operations metric to measure. This was followed by number of projects completed, estimated vs actual costs of creative projects, and rounds of revision per asset. The consensus from creative leaders on the ground is that metrics are set to play an even bigger role in the future as creative teams become more integrated into the business unit and have to justify their value. Of course, the move to a borderless workforce, calls for even greater transparency too.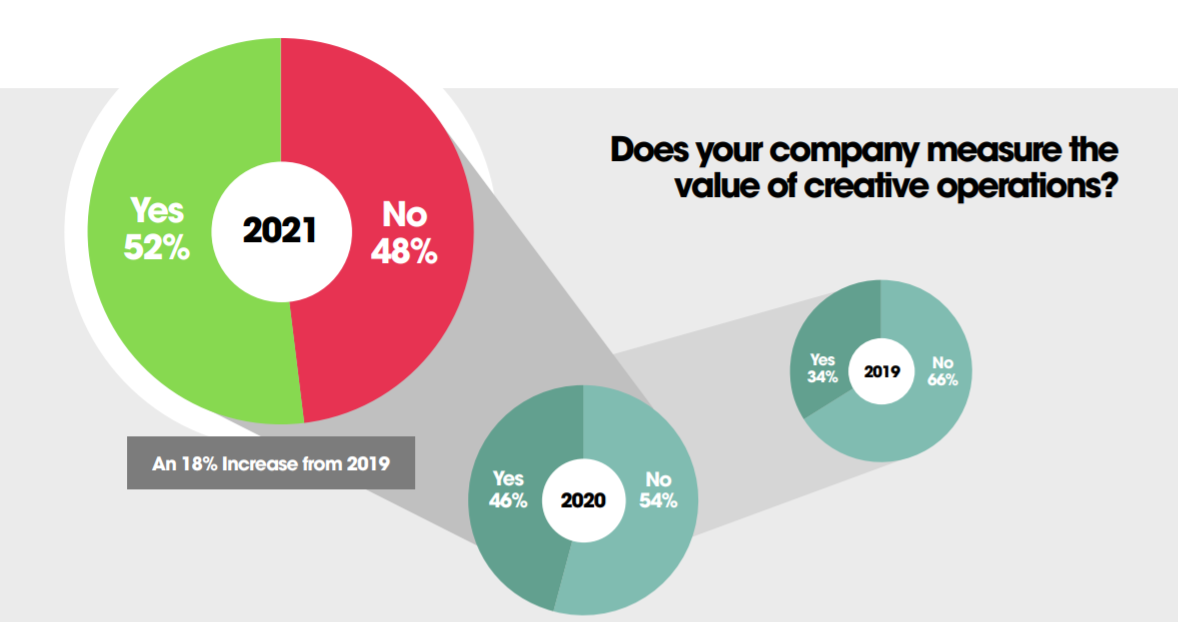 Turning to Tech to Unite Remote Teams
In 2021, 53% of creative teams implemented new software tools to help manage
creative operations. Project management and resource management software tools were the most popular types of tools implemented in 2021.
Additionally, nearly 60% of creative leaders said that the switch to remote working forced them to implement creative ops software tools sooner than expected. It's evident that more and more creative leaders are turning to technology to better align resources and streamline operations. With creative team members now spread across the globe, we can expect a deeper focus on technology as we move into 2022 and what's more, the right technology to successfully unite creatives in one place.

If you would like to read the full report and get even more interesting insights on Creative Operations in 2021, you can download The State of Creative Operations in 2021 here.
Also, with 2022 just around the corner, we would love to hear what questions you would like us to cover in our 2022 Creative Operations survey. Leave your thoughts in the comment box below!

Screendragon has been at the helm of the Creative Operations community for over 15 years now, serving creative teams at Keurig Dr Pepper, Kellogg's and more, with our leading end-to-end creative project management software. If you would like to see our software in action, book a demo here.