The Top 6 Agency Management Software Platforms of 2022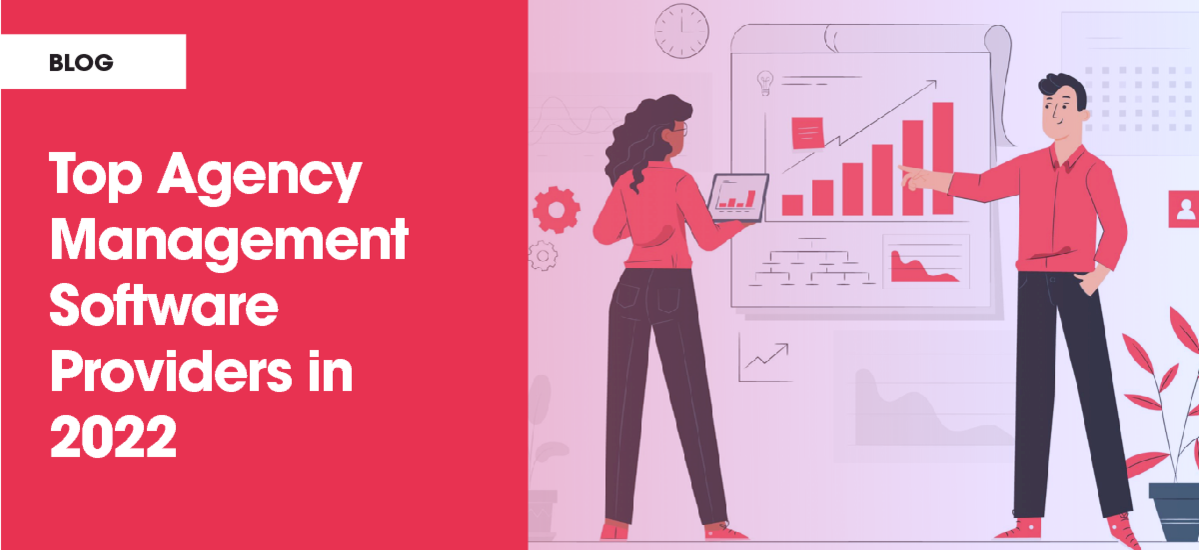 Welcome to our list of the top agency management software platforms in 2022! This comprehensive review covers six of the very best agency management systems in the market today. We dive deep to bring you all the information you could possibly need to choose the best solution for your needs.
TABLE OF CONTENTS
1. WHAT IS AGENCY MANAGEMENT SOFTWARE?
2. HOW TO CHOOSE AN AGENCY MANAGEMENT SOFTWARE?
3. THE TOP 6 AGENCY MANAGEMENT SOFTWARE PLATFORMS IN 2022
---
1. WHAT IS AGENCY MANAGEMENT SOFTWARE?
Aside from the obvious and what the name suggests, agency management software is a  workflow solution that manages the general needs of an agency including intake forms for new clients and projects, intra-team collaboration and communication tools, and value-reporting for clients. As described in SoftwareWorld's best advertising agency software list, agency management software is designed for agencies to provide the next level of client service and productivity!
---
2. HOW TO CHOOSE AN AGENCY MANAGEMENT SOFTWARE?
Most project management software providers claim to offer agency management solutions so it can be difficult to narrow your search if you're trying to identify real agency experts. You will see terms like CRM, marketing automation, and content analytics mentioned by some agency management solutions but this is not the true essence of agency management software. Before considering the functions mentioned above, an agency must manage it's people, their workloads, and deliver profitable projects. We reviewed the best known platforms under the most important components of a modern agency management solution.
Briefing & Requests
Project Management
Resource Management
Budget Management
Digital Asset Management / Proofing
Workflows
UX & Usability
---
3. THE TOP 6 AGENCY MANAGEMENT SOFTWARE PLATFORMS IN 2022
• SCREENDRAGON
Screendragon is an end-to-end agency management solution used by agencies to initiate briefs, plan projects, allocate resources, collaborate on content, and manage clients & budgets. With Screendragon's agency management software you can better manage operational efficiency by planning and resourcing projects more effectively, gaining oversight of workload capacity and budget spend as well as speeding up content development and review cycles with digital proofing and automated workflows.
Briefing & Requests
Screendragon digitizes briefing forms and adds an extra layer of intelligence to forms. They can be easily customized to offer agencies a professional way to collect necessary information and assets needed for briefing processes.
Screendragon's dynamic forms offer advanced capabilities such as deliverable spec matrix grids, real-time calculations, multi-faceted dependencies, and multi-media previews; all designed to speed the in-take process and make it a lot smarter!
Project Management
Screendragon's project management approach is visually and functionally different when compared to other vendors. It adopts a unique visual approach to project & process management which very much suits the mindset of agency workers. The project process is always displayed visually at the top of the interface and the tools for helping users execute a project are listed down the left. This L shaped methodology differentiates from the boards/workspaces approach adopted by competitors.
Like most other professional PM tools, Screendragon offers the ability to easily create task lists, dependencies, Gantt charts and Kanban boards. However, Screendragon takes this functionality up a level by automating the management of tasks lists by connecting them to other project activities such as resourcing or budgets. This is a significant time saver for agency professional allowing them to focus on ideas to build brands.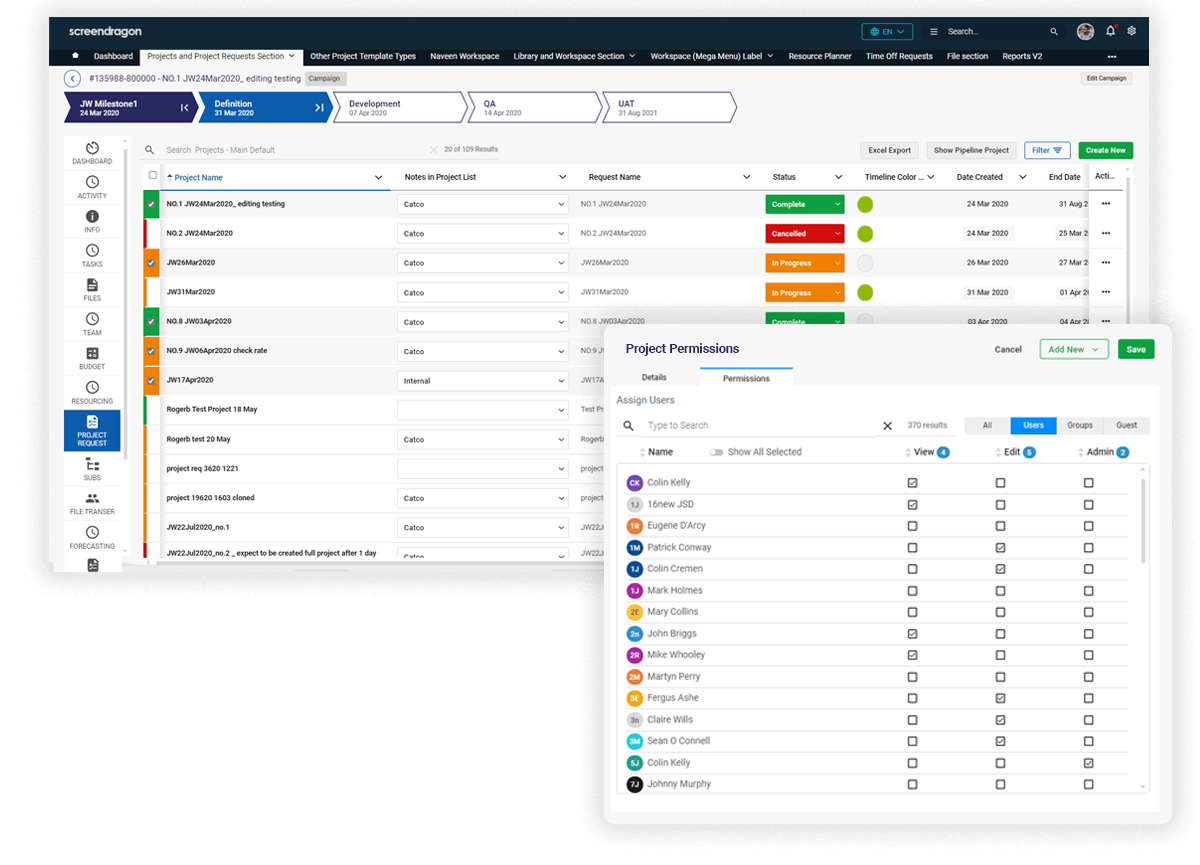 Workflows
Screendragon believes that Project Management can be automated a lot more than it is now. We see many agency staff struggle to keep project task lists up to date. To tackle this pain point Screendragon applies powerful workflow automation to help agencies to work smarter.
Screendragon's 'no code' workflow builder makes is fast and simple to create workflows tailored to the needs of each agency team. Despite its simple appearance it can power the biggest and most sophisticated processes – for example, routing creative for approval by the IOC from advertisers all over the world. By systemizing processes, Screendragon is providing organizations with much better governance and compliance.
Budget Management
It's vitally important that agencies leverage agency management software to stop creative projects running over time or they will inevitably over-service clients or miss key deadlines. Screendragon has built workflow automation into budget management capabilities which means cost estimating processes can now be automated, applying the right rate cards based on client, role, deliverables.
Calculations can be applied including discounts and bonus payments and naturally non-resource costs can be included when estimating total costs. The right approvals can be dynamically pulled into the process depending on client, budget amount etc. Live visual dashboards with trackers for Estimated v Planned v Actual (timesheets) ensure teams have oversight of costs and can better understand where over-servicing is happening. Business scenario planning is also supported enabling teams to build staff plans for new business, estimate the costs, and then overlay the resource requirements on top of existing resource commitments to understand impact.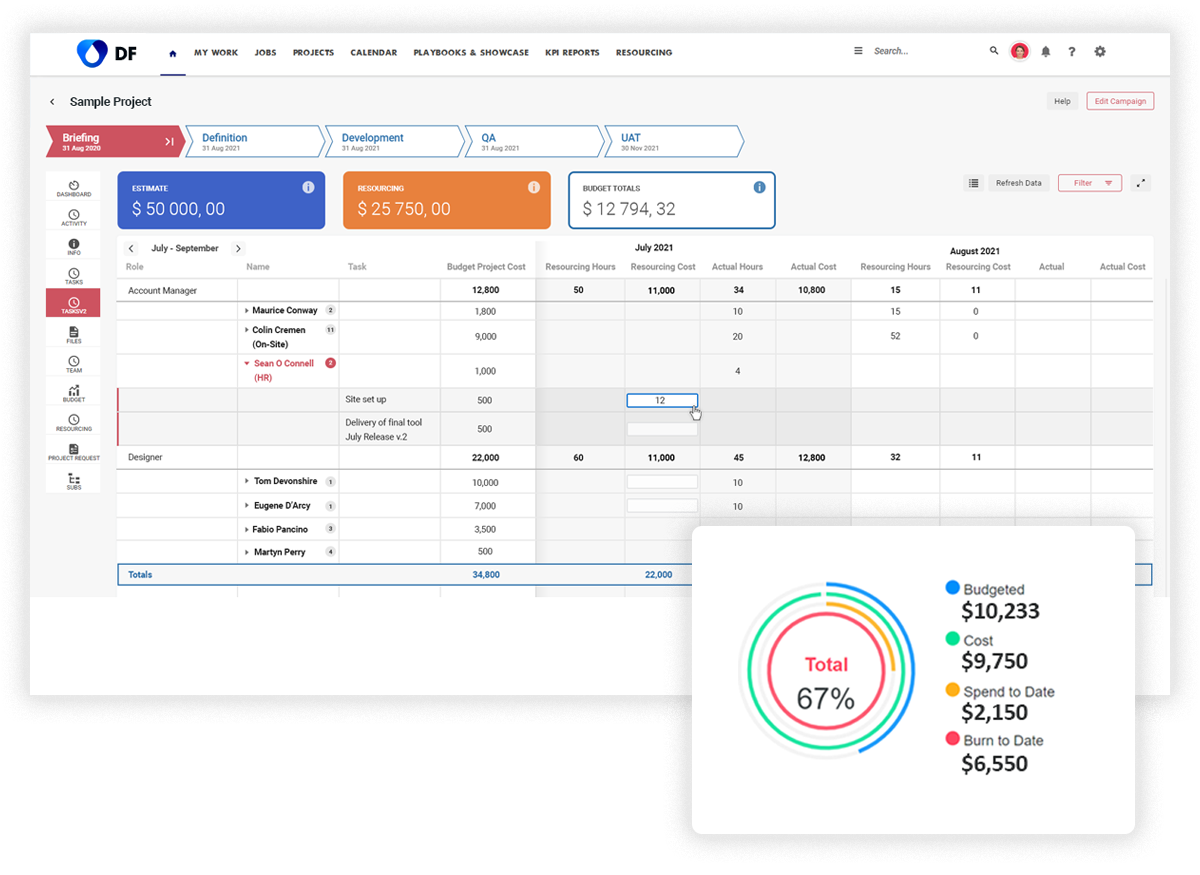 DAM & Proofing
Screendragon's digital proofing module is tightly integrated with its content workflow features. Creative workflows can be tailored to the exact ways of workings and business rules of your teams. Smart logic ensures that key stakeholders are pulled into the workflow dynamically hugely reducing the number of emails distributed. Mark-up and comment tools, side by side version comparisons, and @mentions ensure feedback is contextual and clear allowing work to flow through the organization faster than before.
Screendragon integrates powerful DAM functionality too. Leveraging workflow automation, content that is sent via review and approval workflows can be automatically published to a Screendragon digital asset library. Furthermore, the meta data associated with the asset can also be auto populated into the library saving lots of manual digital librarian hours. Screendragon's digital libraries can be flexibly used and there can be multiple libraries in the same tool. Many customers use them to create an organized, searchable content library, others create brand style guide libraries and training knowledgebases with templates, methodologies & on-boarding content. Screendragon can naturally also integrate with third party DAM systems.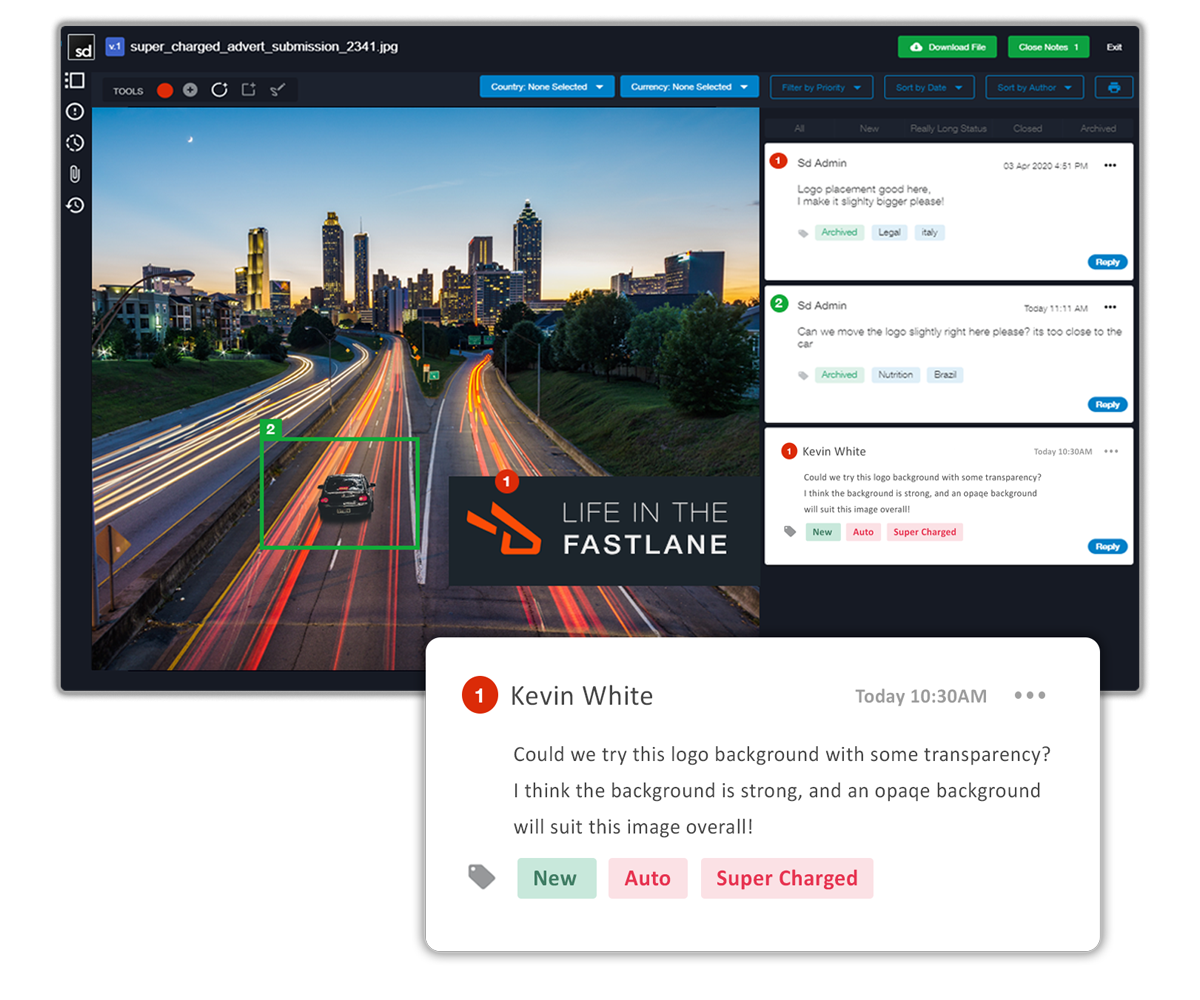 Resourcing
Screendragon's agency resource solution enables agencies to identify and allocate resources based on availability and skill sets. It differs from other vendors by being fully integrated with all other work management activities – new business planning, retainer staff planning, estimating project-based work & more all connect up with resource management. The resource planner can be automatically populated based on briefs removing manual effort. Work can be differentiated between tentative role requests and work assigned to individuals. Quick and intuitive drag-n-drop features and one click button actions can be used to make quick changes to schedules, assignees and hours. Pre-built KPI dashboards take the hard graft out of reporting – you can review agency, department, role, individual capacity figures with a click of a button.
Screendragon uses machine learning and AI to help teams make better decisions about how they use their talent effectively. All project and talent profile data are analysed on a continuous basis to help provide project staffing recommendations. Project leads can ask the system to suggest the ideal project team based on the skills required, availability, client experience, past project performance and more.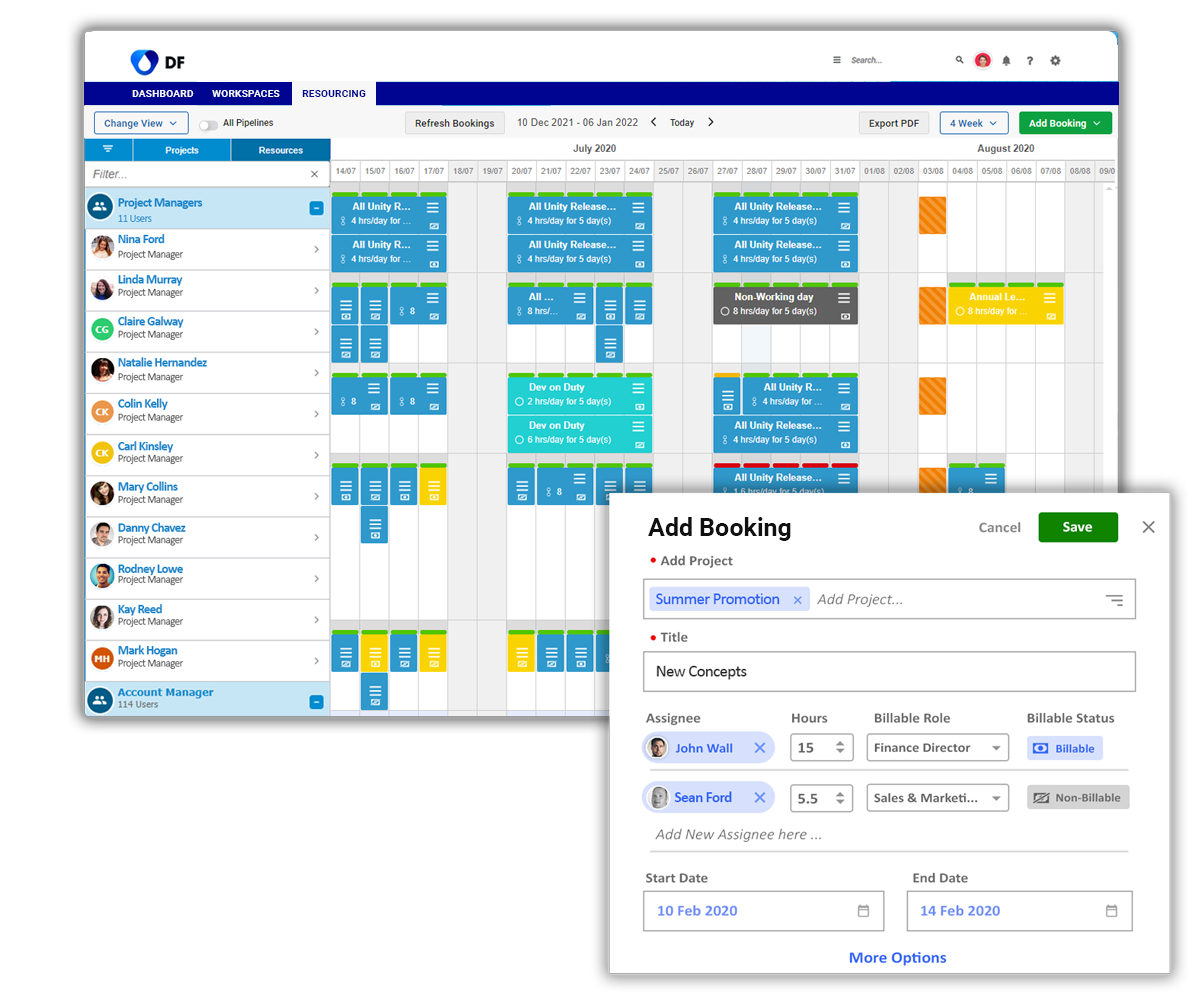 Usability
Screendragon's UX is unique in the category. It offers extensive customization of look and feel including full UI skins and dashboards where the tool can truly reflect the personality of the brand or organization.
Additionally, Screendragon enables agencies to have multiple UX skins in the same system providing a fantastic capability to collaborate in a multi-branded space with key customers. Screendragon's UX DNA comes from its heritage working with many of the world's biggest brands and design teams. Processes and workflows are visualized to simplify on-boarding and provide a better visual guide to follow.
Conclusion
Screendragon is an end-to-end agency management system that ticks all the boxes for work and project management. If you're looking for just a task list or Kanban cards then you may find Screendragon has more than you need, but if you're looking for a powerful workflow management solution that is designed for agencies and creative teams then look no further.
---
• ADOBE WORKFRONT
Workfront is traditionally seen as a process-heavy/task-based project management system for large enterprises to manage work across multiple teams and locations. According to Workfront, it will "protect margins, impress clients, and outpace the competition" and have a big-name agency client in the form of FCB. Let's see how Adobe Workfront compares under an agency management lens, as opposed to the conventional enterprise work management features.
Briefing & Requests
Users have noted that Workfront's briefing process helped them improve efficiency as they can quickly estimate a project and brief the client on each step of a project. A feature of Workfront's briefing that has proved popular and timesaving is the ability to save a creative brief for reference and future use.
While Workfront's brief functions well if you follow their rules, you can run into challenges if your briefing process needs to be more advanced. There are a lot of standard fields that cannot be removed even if they aren't relevant to your way of working. Permissions, grids, and complex dependencies are almost non existent and files can't live in the form – so your data is somewhat separate from a visual brief or file. Some users have also bemoaned the lack of a project charter / creative brief integration. Although the Workfront request process is robust, many users have commented on its tedious and laborious nature.
Project Management
Agency clients have benefited from agile project management by using Workfront to create Gantt charts, easily viewable backlogs, and storyboarding. Time can be saved by referring to previous projects and copying elements of the process for new requests. The ability to communicate with clients in one platform is a basic but always appreciated feature of agency management systems like Workfront.
In terms of challenges relating to project management, Workfront can be difficult to use if you want to separate projects, tasks, or document updates. You will need to navigate multiple sections to do so, and it can be a tedious process. Some agency clients of Workfront have found discrepancies in project status due to overlapping tasks which can result in a project showing up as late even if it is on course for completion.
Resource Management
Within Workfront, you can track resourcing and help make educated decisions on agency staff planning. Automatic scheduling of tasks can save time and money for agencies by avoiding repetitive manual task management processes.
While the basics of resource management seem to work well for Workfront clients, some have complained that it gets too complicated when you want to step up your resourcing performance. Forecasting assignments before a budget has been created has proved difficult and bulk assigning users to project tasks is 'a bit clunky' as you need to navigate through several clicks to execute.
Regarding analytics, the lack of a resourcing heat map has irked some users while there have also been cases of inaccurate data when trying to report on time due to hours showing only when assigned to a task.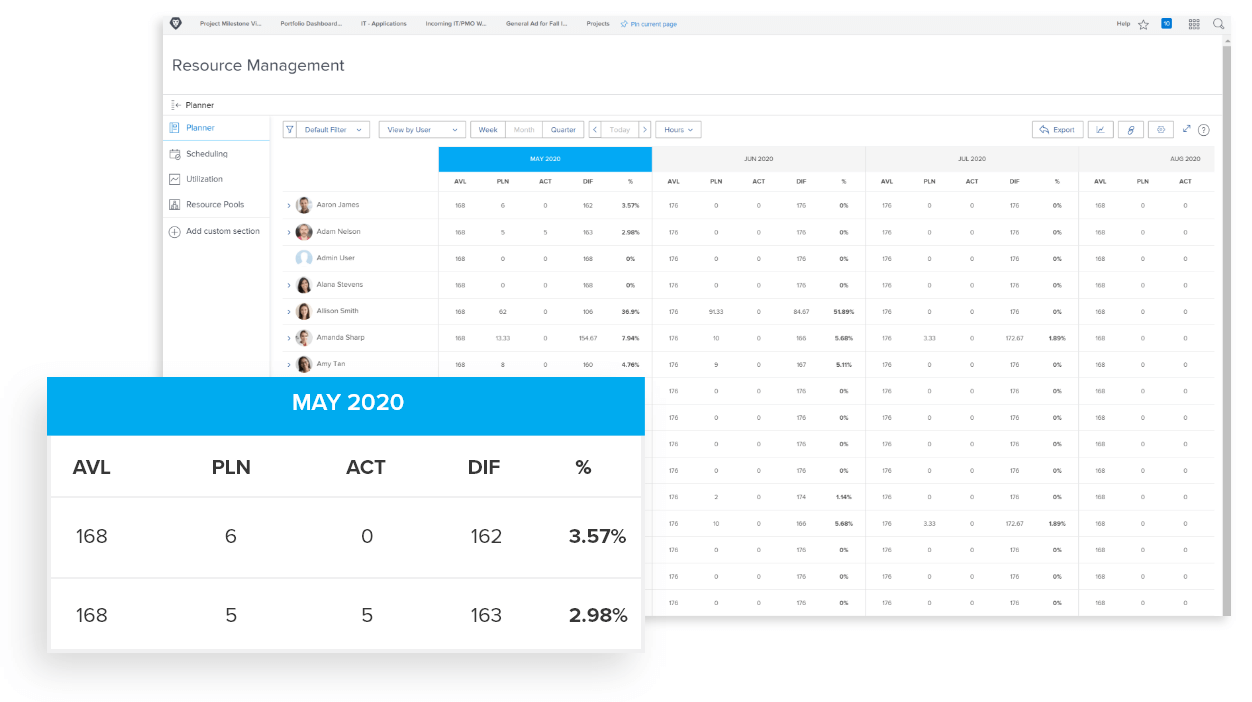 Budget Management
Workfront's agency management capabilities provide users with real time visibility into costs and revenues so that agencies can ensure they stay on budget and maintain a healthy ROI. Workfront's agency clients have credited their agency management systems with improving their operations from a 'wild guess' culture to a system where creative value can be attributed to projects and billing estimates can be made with confidence.
Agencies will be frustrated at times with Workfront's roles and rates as they are very one dimensional. You must work with role, cost per hour, and bill per hour. There are no role variants or alternate rate cards.
While there are options for plug ins, many Workfront users have been frustrated by the lack of an integrated billing system. Customizing the budgeting features can be a labour-intensive task and the software can disappoint when you're tracking hours against allocated hours in the budget.
Digital Asset Management / Proofing
Workfront's asset management and proofing processes can streamline the approval process for design and creative teams. It's easy to upload and comment on creatives and the proofing function allows changes and edits to be tracked throughout. One of the main benefits of Workfront's proofing system is the side-by-side comparison of marked up assets. This avoids the pitfalls of email threads and logs to find the latest version and comments. You don't need to have a Workfront license to proofread or approve an asset which means you can circulate proofs with clients and outside stakeholders to have documented edits and feedback. Once an asset has finished the creative cycle, you can store your creatives in Workfront's digital library for future use and reference.
Although Workfront has an integrated DAM, some users have encountered problems wherein the two systems are disconnected. This results in extra steps and time as a workaround is needed to push assets from one repository to another. Within the Workfront project management system you can sometimes find documents difficult to find as they are seemingly out of order as the latest document isn't always on top. Comments left in the updates section can occasionally be missed by the person working on the project so you will need to ensure there are robust notification systems in place.
Workflows
Workfront provide workflow management features to track who makes requests, who work is assigned to, and who is working on a particular task at any point in time. When everyone's workflow is clearly visible, it gives visibility into how agencies can make improvements and accurately allocate resources.
You will need to dedicate time and resources to setting up workflow templates in Workfront as the initial process will determine the success of the subsequent workflows. Some users have been frustrated by the lack of sample workflows which means that you need to start from scratch when creating a new workflow. You may also encounter difficulties when you need to get involved in a workflow as users have been confused about what work needs to be approved, what has been viewed, and what needs to be actioned. The process has been described as 'cumbersome' and 'difficult to navigate' and there are only basic workflow options available to users. This means agencies often have to alter their process to fit what can actually be built.
Tagging is a crucial aspect of Workfront as comments will be missed if the reviewer has not specifically tagged the correct person in the update. Some agency clients have needed to prop up Workfront with other tools to fill gaps which means it may not be the most agile agency management system.
UX and Usability
Workfront will suit Prince2 project managers who are comfortable in a technical project management environment and understand all the ins and outs of project management methodologies.
It can feel overpowering for non-project managers as there are a lot of details to digest on screen. Getting adoption across all agency departments has been reported as a struggle as the interface feels crafted for project managers rather than creatives. The UI can be customized a little but not enough to make it feel comfortable for all users. Workfront is really a technical project management tool with a technical UX.
Conclusion
Overall Workfront is a powerful, useful software for big agency organisations needing to implement strict, professional agency management. It does require a significant amount of effort to get it implemented and on-board users to its UX. The 'PM' focussed interface may be a bit too 'heavy' for many agencies as they may struggle to get adoption across departments. It has all the features but does not have the elegance to get creative organizations firing on all cylinders.
---
• ASANA
Asana is a project management tool that is very centered around managing tasks in a check-list view. Agencies looking for a very simple style of project management may like this approach, agencies looking for more advanced project management capabilities may find Asana's approach too simplified. Asana users can choose to view their work in the form of a list, a board, or a calendar. If you want to implement resource management and budgeting, then you will need to plug in a third-party solution as these features are not available in the native app.
Briefing & Requests
As per the norm with agency management software, one person can fill out a form in Asana and it will automatically create a task and assign it to the relevant team member. Agencies can use Asana to streamline their creative briefing process as you can collaborate with designers, copywriters etc. in one conversation thread. One Asana team noted that they use a complex workflow of brief intake from 20 clients to manage the workload of a 50-person creative team.
Among the downfalls of Asana's request functionality is that you will be limited to one form per project. Some users have also been stifled by the lack of dynamic forms and file types as you can only utilize four file types.
Project Management
When you set up an Asana account you can join 'Workspaces' and 'Organizations'. Projects are created within a workspace, and you can log work, track it's progress, communicate with team members, and so on. If you're not sure where to start, Asana offers project templates to help get things started. Within your project you can assign tasks to team members, set priorities, and view schedules using the calendar feature.
Asana is a good platform if you want to use simple project management methodologies but it's limited board view will make agile working difficult. There is also no integrated Gantt reporting and advanced project managers will be frustrated when trying to measure velocity, burndown etc.
In relation to client management, they will be able to see projects and tasks they've been added to but their privacy settings cannot be modified. This means they may have to see more information than they need or possibly more information than your team is comfortable sharing.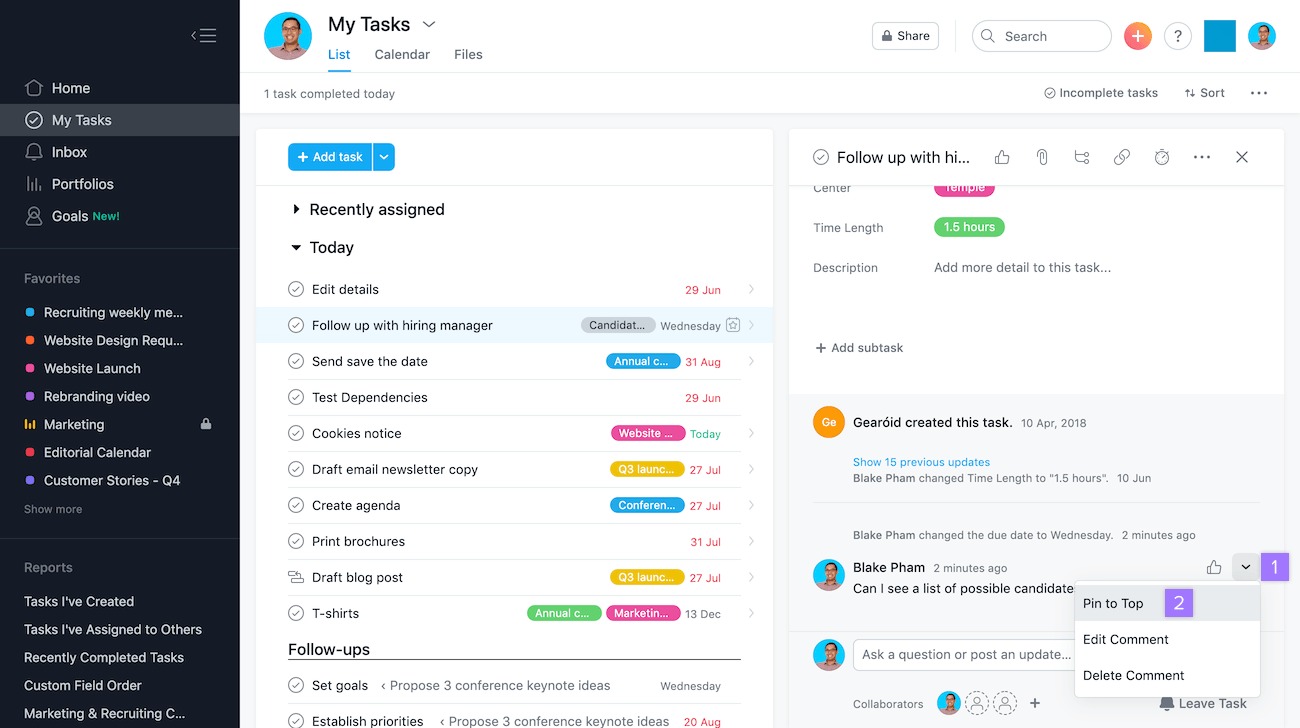 Credit: Asana
Workflows
Asana's workflow builder is quick to set up as there are functional workflows straight out of the box. Agencies can define triggers for automation such as due dates and create rules to automate repeatable steps. It has been noted that its easy to create a project and outline a workflow as it only takes a few steps to complete.
While Asana's workflow is great for simple processes it lacks task dependencies which will irk some creative project managers.
Budget Management
Asana does not have native budget management capabilities so you will need to use workarounds to utilize the system for budgeting. You can create an overview tab with quick access to a progress vs overall budget and several users have found that that they're budget management improved as a result.
As there is no budgeting application in Asana, you cannot utilize billing or features. The lack of a time tracking feature also makes it difficult to accurately estimate budgets as you're not entirely sure how long a particular task or project takes. While Asana is a useful task management system, the software does not have many of the budgeting features that you would expect in agency management system. If you're looking for advanced budgeting and resource management features, then you may need to look elsewhere.
DAM & Proofing
If you want to use Asana for asset management and mark ups then you will need to purchase the upgraded Asana Business subscription. This will enable you to leave detailed, actionable feedback on images which can be turned into automated tasks.
There is no markup tool to collaborate, review, and view changes to graphic files. Asana's board view has been used as a workaround as you can set cover images for each task in a column, but creative studios will run into a wall quickly with Asana when they churn out images, videos, and other files and they get stuck in Asana's tedious review process.
Resourcing
Asana Business' workload management tool provides insight into where resources are spending their time and how much bandwidth they have for current and upcoming work. As mentioned previously, there is no built-in time tracking in Asana so you will need to plug in a third-party app to add that layer of intelligence to your creative projects. With regard to task management, several Asana users have lamented the inability to assign two different people to the same task. Creative teams will lose time as they need to duplicate a task each time, they want more than one person to work on it.
It is also difficult to keep colleagues accountable at scale as anyone can unassign work and it's difficult to track down the project status without manual audits. Subtasks in Asana are the bane of many resource managers as the inability to add subtasks to the timeline view makes scheduling challenging while the inability to add subtasks to the workload view makes resource planning difficult.
Usability
Asana's Kanban-style interface will be easily navigated by agency users wherein you can view projects and manage tasks in several different ways. Users can choose between Kanban boards, calendar views, lists, and timelines when viewing work and statuses.
Some users experience difficulty finding tasks that are completed and projects that other team members are working on. Issues with Asana's search function have been noted by some that were restricted by the ability to only search top line objects.
In terms of customisation, users can change the colour of each project to differentiate them but the lack of personalisation of the UI will frustrate creatives.
Conclusion
Asana's a good tool to get started with project management due to simple workflows and task assignment. Creative teams will quickly encounter challenges when they want to add layers of intelligence to their reporting or when they try and mark up graphics and images.
---
• MONDAY.COM
Monday.com is used by agencies to plan, organize, and collaborate on creative projects. Monday's simple interface gives creative teams visibility of workload and a log of previous jobs while its relatively straightforward to implement tracking and approval processes.
Monday's project management capabilities include automatic reminders, deadline notifications, and resource allocation. Work in Monday.com is structured around workspaces, boards, items and subitems while you can choose to view items in a Gantt chart, Kanban board, or timeline calendar.
Briefing & Requests
Monday.com provides an opportunity to submit project and work requests through forms that auto populates a task in a designated Monday.com board. You can embed Monday's form on a webpage which means clients and external staff can easily request work without needing access to the system. Custom forms can also be created to ensure all necessary information is requested. Once a form has been filled, it's easy to see what needs to be done within the Monday.com platform.
While it's easy to fill out a Monday.com form, the form creation process is not entirely user-friendly as columns need to match a task in the system. The forms are customizable but only on a basic level – the order of questions cannot be customized.
Project Management
Monday.com supports waterfall and hybrid work methodology. The ability to see deadlines laid out visually through boards helps agencies with prioritization and workflow management. Prioritization of work can be done by one person or team and all required resources will be updated on the new prioritization. This can save time for agencies as calls and meetings can be reduced, and no task gets lost or forgotten.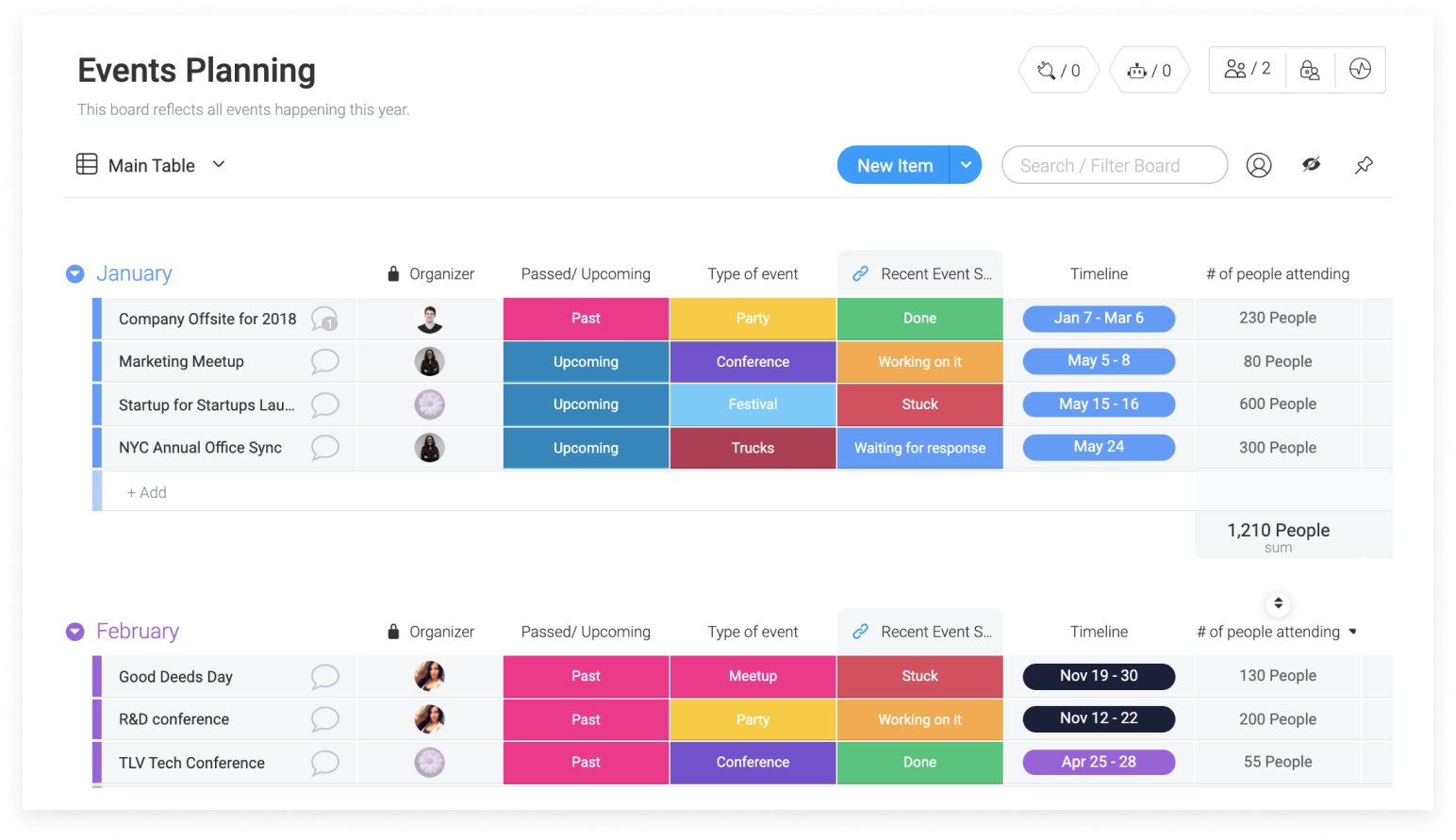 In terms of task management, many users have commented negatively on the issue of items vs sub items in Monday.com. The column titles and sub item column titles can't be changed across different group of items and it's not possible to convert items to sub items and vice versa. Monday does not have subtasks or task dependencies, meaning you can't break down project plans to a granular level or create task dependencies associated with the completion of other tasks. Agencies practicing scrum and agile project management may also be frustrated as it's not possible to track project burndown.
Workflows
Monday.com features 'no code' workflows that can be customized by dragging and dropping any of the 30 column types available. These workflows help agencies track each step of a campaign as well as schedule future work while keeping everyone updated throughout. You can use Monday's workflow capability to share raw data from campaigns with clients using the board sharing feature and it's reasonably straightforward to put together a project or board to generate a workflow.
While workflow set up is not overly complicated in Monday.com, it can be difficult to intuitively set up automated paths and users have concluded that it is not a system that you can just 'jump in and start using'. You will need to invest some time to fully understand Monday's workflow capability before you get going. Once you have set up your workflows, you may also feel frustration when trying to move a task to a different board as all sub items are deleted. This has been known to cause disruption to workflow.
Budget Management
In Monday.com, agencies can plan, manage, and track budgets in a simple interface. You can track expenses and dates and attach relevant files to each item. Using Monday's various columns, you can filter these items on several variables (people, time, location, and more). Monday's budget management enables agencies to accurately bill their clients as they have a better idea of billable hours and overheads. It also helps improve accountability as you can view how long individuals are spending on each task.
While Monday provides a simple budget management system, you may find difficulty when trying to track time vs each task. This causes issues if you want to bill clients based on a particular task.
DAM & Proofing
Agencies will look to Monday's boards to implement approval processes and revisions that are tracked within the system. Social copy, graphics, proposed edits and approvals are housed in one space and can be easily referenced chronologically to see how a marketing asset is developing. Multiple Monday.com users have commended how easy it is to set up a task and send it to others for review and approval. If you want to introduce clients to an approval process you can add them to a board, and they will be able to review and approve as per the requirements. This feature has saved a lot of time and email threads for agencies.
Resourcing
Understanding your agency's workload is critically important and Monday.com will provide visibility into current resource allocation, what the pipeline looks like, and how it all will impact resourcing. This enables agencies to plan projects months in advance which helps curb peaks and throughs – instead, enabling you to create a healthy flow of work for your team. It's simple to build custom boards that help keep your team organized and on track. The pre-built templates are useful and help save time from starting from scratch.
While Monday.com is an effective planning tool, it does not offer time sheeting capabilities which has irked some users and resulted in third party plug ins needing to be utilised.
Usability
Monday's interface is based on a spreadsheet concept which means it's intuitive and most users find the homepage insightful and productive. While Monday provides a lot of information in its display, some users have found it to be overkill and distracting. Some users have also lamented the lack of customization of dashboards which can frustrate agencies that want to be creative in the way they present information.
The task manager in Monday.com is quite rigid and doesn't leave a lot of room for customization. Some users have bemoaned the inability to customize the design of the boards and the strict adherence to a spreadsheet style where you'll always have rows and columns.
Conclusion
Like Smartsheet, spreadsheet advocates will find Monday.com easy to use and manipulate. It's not an advanced project management software though as it struggles to streamline tasks with the board style set up. It also lacks time tracking capabilities which will be a turn off for many agencies.
---
• SMARTSHEET
While Smartsheet does not offer an agency solution per se, it is used by agencies and professional services to manage client projects and requests. Project management, scheduling, program management, request management, and onboarding are the benefits highlighted by Smartsheet's professional services offering.
Briefing & Requests
For briefing and requests, Smartsheet subscribers use the 'Forms' feature to create custom forms that collect information needed related to a projects. Smartsheet's agency clients have noted some improvements in form collection which enables clients to easily upload briefs with relevant information and assets. Once a form has been completed it will automatically populate the relevant stakeholder's Smartsheet and, through set-up of 'alerts' makes everyone that is needed for a project or task aware of their nomination.
While there is a level of flexibility with Smartsheet forms, they are not totally customizable so you will need to bend to Smartsheet's rules in some cases. The form data is not dynamic which some users have criticized it as 'basic'. If you want to spruce up your forms, then Smartsheet wont bring much joy as formatting and design options are very limited when creating a work intake form.
Project Management
Like it's competitors, Smartsheet offers a central source of truth where teams can collaborate with comments, file sharing, and task management. Creative teams can manage their work with visual displays that provide real-time project data, charts, and metrics. Features such as pinned comments, @mentions, approvals, and annotations have proven useful for creative collaboration while notifications of critical changes mean that stakeholders don't miss important updates.
Projects in Smartsheet are typically set up as a single row in the grid and sub rows are often used to define people or deliverables that will work on the job. These rows are then visualized to a Gantt view to manage capacity. As you can imagine, every row requires manual labor to create and keep it up to date. In addition to that, most project managers don't want other users entering their own data, like status or time, in a master sheet for fear of accidental deletion.
DAM & Proofing
Agencies can use Smartsheet's proofing capabilities to track assets throughout their production cycle – keeping all relevant stakeholders in the loop when needed. If you want a digital asset management system you will need to upgrade your Smartsheet subscription to include Brandfolder as there is no native DAM capabilities in the Smartsheet application.
Proofing functionality in Smartsheet is rudimentary but also a manual process requiring an administrator to monitor and move the asset from person to person until completed. The lack of automation makes this a labour-intensive process and difficult to manage as volume increases. Smartsheet's proofing features have also been found wanting for some users as there is no workflow so you must add people manually one step at a time. Someone needs to oversee the approval set up and progress (typically a project manager) and this can be very time consuming.
Resource Management
Smartsheet did not originate as a resource management tool but added resourcing with the acquisition of 10,000ft in 2019. Once you have enabled the resource management feature, you can track and review how people are allocated across projects and what they are working on currently. This has proven useful for agencies looking for a basic view into workload and resource allocation although some have encountered problems as capacity issues require several backend sheets to make updates to plans. You may also encounter a stumbling block with Smartsheet's resource management feature if you want to add more than one person to a single task.
If you are looking for advanced resource management capabilities then you will need to purchase Smartsheet's recently acquired software, 10,000ft. Using this add-on, you can utilise project portfolio management, time tracking, budgeting, and advanced project planning. Agencies can then decide who has room in their schedule to take on new work and deliverables to keep projects moving seamlessly through the pipeline.
Workflow
Workflow management is simple and intuitive in Smartsheet as automated workflows can be created in just a few minutes. Users can customize their own workflows by combining multiple actions with the visual editing tool for conditional pathways. Custom annotations are easy to add via a series of when/if/then statements triggering appropriate outcomes and Smartsheet's spreadsheet format makes it easy to automate data entry and daily tasks. Using workflows, you can automatically assign individuals to a project when a certain task is complete, or a milestone / limit is reached.
While a portion of Smartsheet users seem happy with the workflow capabilities, some have run into problems. Workflows are limited to the options available within the If/Then conditional tool and are assigned to a sheet (which you need to recreate for each sheet you manage). Most automations focus on taking an action when a cell or row has changed so the actions are limited to notifications, assigning someone, copying or moving data between sheets, or sending out a form to capture more data.
Budget Management
Smartsheet's budget management capabilities are available once you purchase the resource management add on (used to be called 10,000ft). Real time updates for active campaigns and time tracking for each project will improve an agency's ability to provide accurate monthly billing to clients. To help you get started with budget management, Smartsheet provides a 'Business Budget Management template' that 'helps you track monthly actuals against budget goals so you can tightly manage your financial performance and ensure your business stay on track.'
If you're looking for advanced budget management features, then Smartsheet may fall short as there is no option to bill or create invoices within the platform. Since it's not a finance platform, keeping budget information up to date in Smartsheet requires entry into the system from your native finance system. In addition to integration challenges, there have been negative reviews of Smartsheet mentioning the failure to export spreadsheets (budgets) with essential formulas in the sheet.
UX / Usability
Anyone that is proficient with Microsoft Excel will find the UI familiar and easy to navigate. The centrepiece of the UI is an editable spreadsheet with editing and formatting options like what you'd find in a Microsoft Office application. While the spreadsheet format will prove a hit with old school project managers and IT teams, it is a lacking inspiration and user experience for creative teams. You cannot brand the software or significantly change the UI so you must accept what Smartsheet offers in that regard.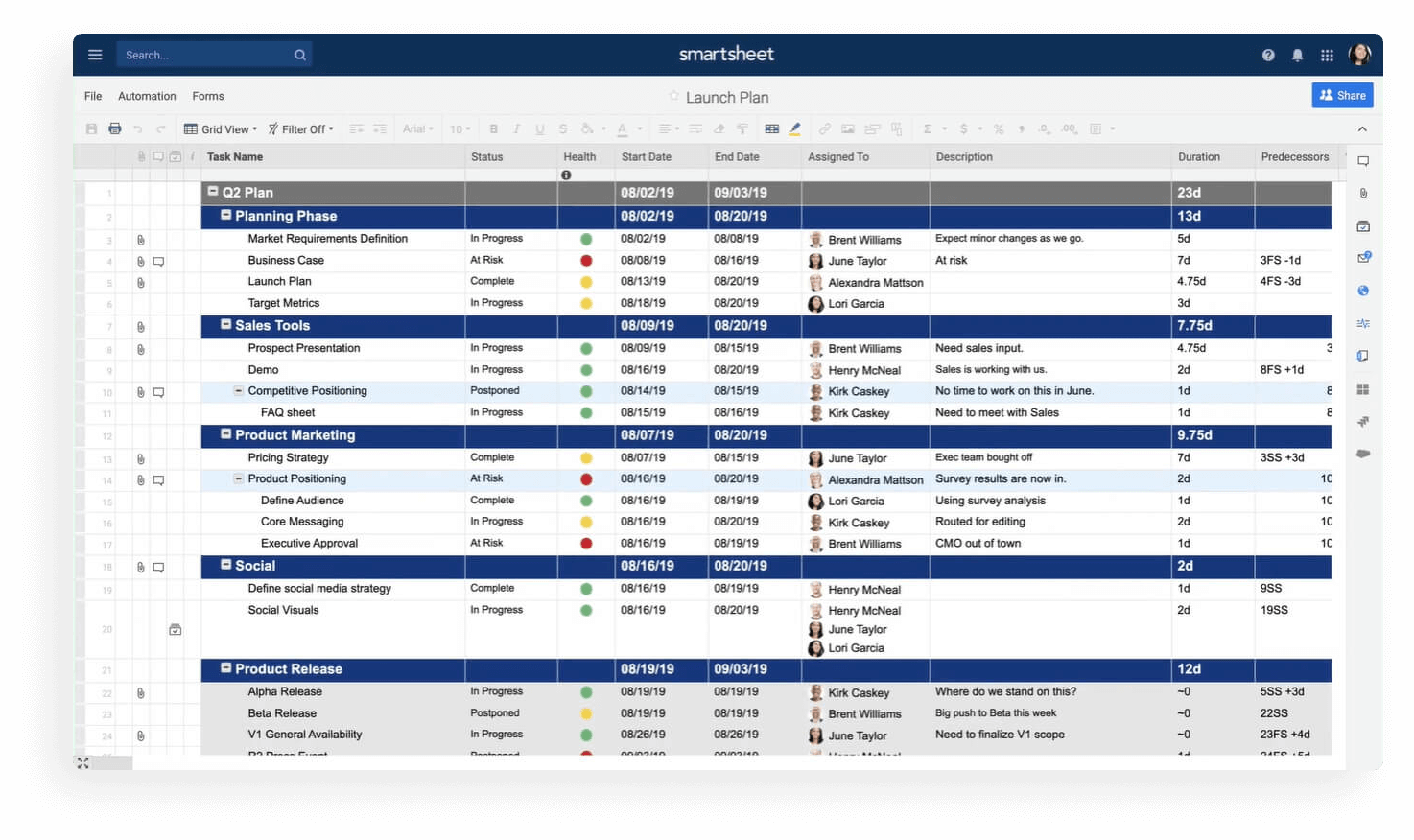 In terms of usability, many users have been frustrated by Excel files losing conditional formatting when files are uploaded. Additionally, some features of the sheet are not carried when you save a template or project – this means you can waste time reconfiguring alert rules. A simple feature of an agency management software that doesn't seem to be present in Smartsheet is an autosave function. This has frustrated some users that expect their work to be saved with each keystroke.
Conclusion
If you are looking for a software to begin your agency management journey, then Smartsheet can provide a simple tool to help manage operations. The spreadsheet UI will be very familiar for some but will likely not win the hearts and minds of others that would like to see some level of UX appeal and custom branding. If you are subscribing to Smartsheet you must be prepared to create several separate sheets to adequately manage the multitude of processes within your organization
From a feature perspective is does tick a lot of the boxes for managing agency operations but given the expansion of the platform via acquisitions (10k and BrandFolder) it still has work to do to deliver a fluid workflow for the total agency work lifecyle.
Additionally, be aware that you may spend more than you budgeted for when you realise that you need to pay extra for some modules and may need companion software with added fees for time-tracking, budgeting, resource management.
---
• WRIKE
Wrike enables agencies to visualize projects on Kanban boards and Gantt charts to give quick insights on where a project lies and its dependencies. Wrike can help accelerate project delivery by organizing resources, prioritizing tasks, and connecting tasks with comments, files, and email conversations.
Tasks, subtasks, milestones, phases, and projects can be cross categorized into workstreams and organizational structures to support scalability and tailored views of work.
Briefing & Requests
Request forms are native within Wrike and are commonly used by agencies to initiate and automate workflows from internal and external clients. The software contains a form builder for project managers and uses conditional logic for form creation. Based on inputs via the form, Wrike can assign tasks, assign projects, and populate subtasks.
Experienced creative project managers may be annoyed by the lack of conditionals in the form building and some users have criticized the level of automation available. For example, forms don't auto populate data fields which will restrict the benefits available with Wrike forms.
Project Management
Projects live within Spaces and are comprised of tasks, subtasks, owners, and team members. Spaces can be open or private and used for different organizations, functions, and business units. Work can be viewed in the form of a list, board, table, or Gantt chart its quite easy to switch between Kanban boards, drag and drop Gannt, and workload views for project visualization. As tasks are moved from one person to another it is easy to view previous comments, actions, and files so there is always context to work.
Some Wrike users have found the project management aspects to be complex and non-intuitive. The fields are sorted alphabetically on the project view and can't be organized in a different way. This can make it hard to keep all your agency's information organized and easy to find. Many Wrike customers have also criticised the way completed tasks disappear from your view. This limitation and the forced tagging of tasks and projects can be time consuming and frustration for many.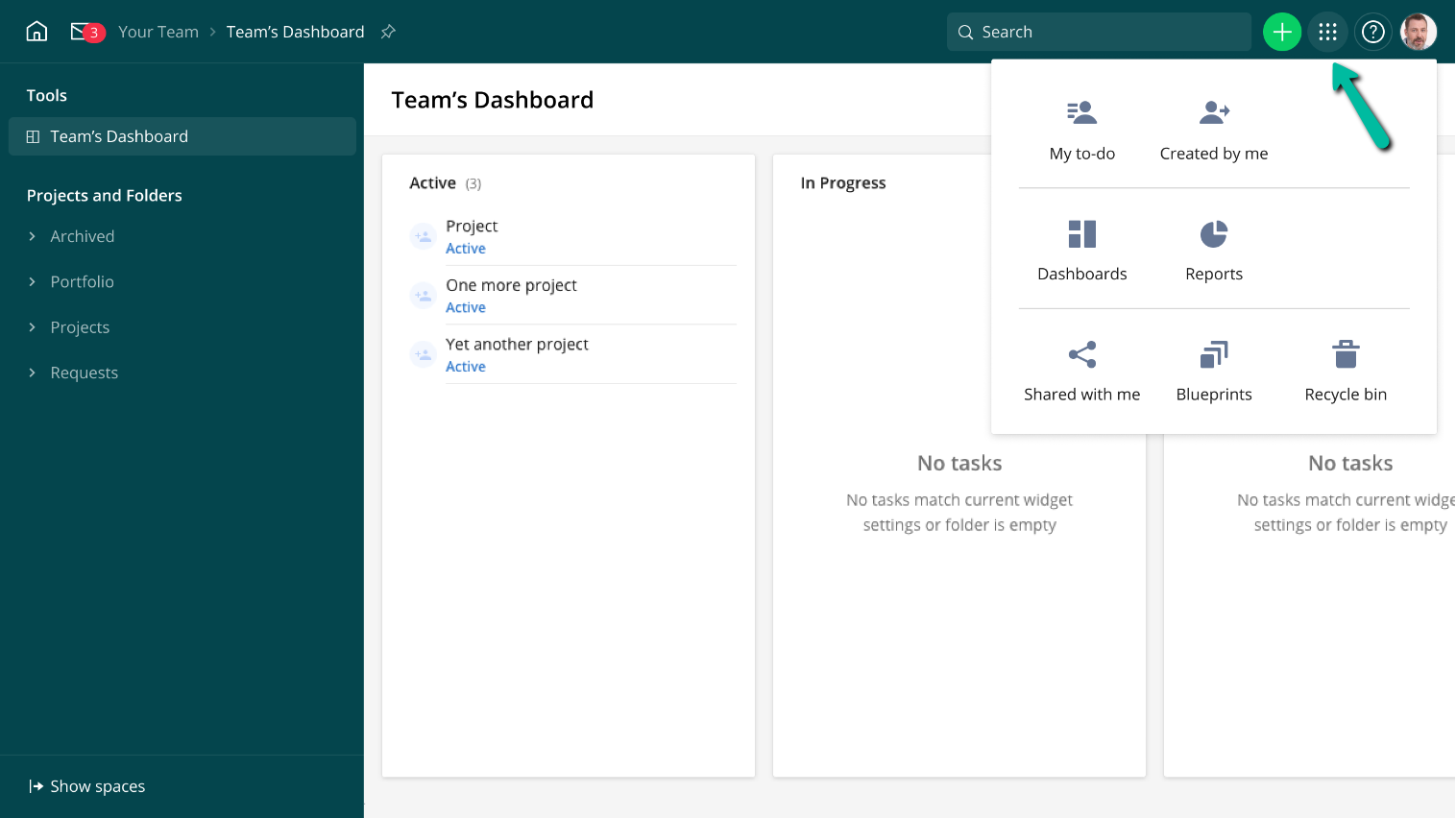 Workflows
Wrike offers a standard workflow package organized by statuses. There are four workflow groups: active, completed, deferred, and cancelled. If you want to use custom workflows, then you will need to subscribe to Wrike Enterprise. Under the Enterprise account, Wrike's workflows are highly customisable which can suit agencies that need to build complex request and approval processes.
The level of customization available has overwhelmed some users though and the ability to create reporting and analytics on custom workflows is lacking. You will need to sort your custom workflows into swim lanes in order to avail of the basic Wrike analytics. Another limitation of Wrike's workflow management is that you're not able to set up a workflow for a large project that includes other projects from several team members – you can only include folders or a project with tasks. This will be frustrating for large agencies that have dozens of stakeholders involved in projects.
Budget Management
Agencies can use Wrike's custom budget reports under the report building feature to create visibility of budget tracking and spend. The ability to accurately track time will be a help to agencies evaluating the profitability of certain tasks and projects and see where hours are under-budgeted. Rate cards are available in Wrike's higher tier packages where there are advanced budgeting tools for billing, planning, and sending invoices.
DAM & Proofing
Wrike Proof is a feature that is used by agencies to review, comment on, and approve 30 different file types within a task or subtask. The app natively supports photos, design files, videos, and HTML. Some Wrike users have found the app helpful for client proofing as you can invite guest reviewers and create a single feedback log to keep track of different asset versions.
Wrike does not have a native DAM so you will need a third-party integration to implement advanced asset management. Basic file storage is an option where you can upload to folders, projects and tasks using a wide-ranging list of file sharing services.
Resourcing
Wrike's resourcing overview is a useful dashboard to show you who's working on what, the dependencies associated with the work, the duration for each task, and an estimated completion date. This can help agencies build repeatable processes and get real time information into the status of clients, project, and milestones. Wrike's built in time tracking capabilities will track hours spent on tasks and projects and provide insights into productivity.
While the time tracking feature is helpful – it is quite basic in its level of performance. It wont let you set hourly rates for your team and this could cause a problem for agency users.
Usability
Wrike's interface is modern and simple. You can navigate between spaces, folders, and tasks and it's easy to switch from the home screen to timesheets, dashboards, calendars and so on. As mentioned before, Wrike has a strong level of configurability where users can customize dashboards, workflows, reports, and forms.
While it has a simple interface, many users have not considered Wrike an intuitive platform. It can be difficult to ensure all team members are following the threads they're connected with and it's not really a system you can just jump in and start using. The drag and drop features can be clunky and many have noticed you can't select and move multiple folders and subtasks.
In terms of client management, some users have found difficulty with the upload times for external users which has slowed clients down on occasion.
Conclusion
Wrike's visual layout is a good option for fast paced, agile projects, with every step of the process displayed. Wrike's customization options will be helpful for those agencies looking to work with agile workflows and scrum dashboards.
The system is not intuitive though and will has a steep learning curve. If you are choosing Wrike you will need to devote a lot of time to researching the support center as the implementation process can be rushed and a bit limited according to some customers.