Missing out on a work-life balance? It might be time to look at your work requests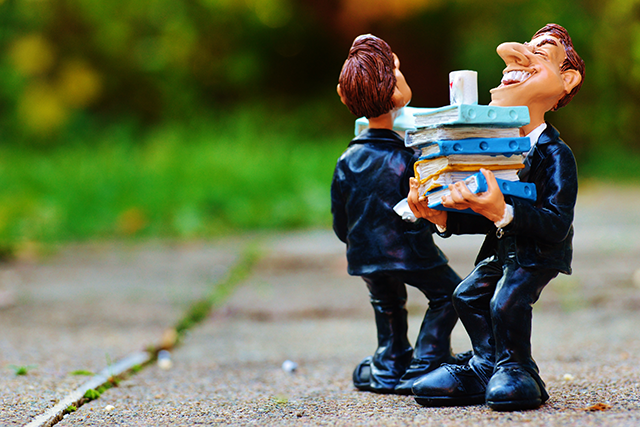 We are working more hours now than ever before. In a recent survey by EY, a multinational professional services firm, an estimated 50% of managers said they work more than 40 hours per week, and four in ten said the hours they put on the clock have increased in the last five years. Additionally, research from the Chartered Management Institute, found that the majority of UK managers spend 29 extra days a year working on handheld devices outside of the office.
Thanks to 24/7 connectivity, the boundaries between work and life are fast diminishing. Work requests are filtering through a wide variety of channels at all hours of the day – email, instant messages, collaboration tools, phone calls and meetings, to name a few. So how are we coping with this never-ending flow of work? Not so good it seems. Workers are burning out fast and productivity is slowly slipping into the abyss.
Ever heard the saying "Too much work, too little time"? Never has this saying been more apparent as it currently is in the marketing and advertising space. While enhanced connectivity has made professionals more accessible, it has also put increased pressure on those working in marketing and advertising to get messages out in real-time. Strike while the iron is hot or you risk losing out to your competitors.
Is there light at end of the tunnel you ask? Yes – using technology to battle technology can ease the pressure on teams as well as help to maintain productivity levels.
Why managing work requests effectively is the route to happiness
Work request or project request forms may seem like an unnecessary task to some, particularly to those working in small teams. Why spend time completing a form when you can pop over to someone's desk, drop them an email or ping them on Skype with your request?
If you stop for a second to think about how you currently manage incoming work requests, it may become clear to you as to why having a dedicated management system in place could solve a lot of problems. For example, if you're using email to manage all work requests, the below points may resonate:
I often get cc'd about jobs that are not relevant to me
I'm missing details about how to execute this project
I can't find out when or who approved that piece of artwork
I don't have a log of past campaigns
So now consider the time you would save as well as the potential legal issues you would avoid, if you actually had a system in place to automatically route work requests to the right people at the right time, plus have a view of project progression and a log of past campaigns or projects.
What a work request tool should offer to keep chaos at bay
At Screendragon we have made work requests smart. You decide what information needs to be filled out in a work request form and by whom, you decide to whom the information gets sent to and, you decide what language is used on the form.
That's just for starters. Here's more of a detailed overview of what you can expect from our smart project request tool:
Define who should be involved in the project/campaign and when
Attach relevant files or images to forms to provide further guidance where required e.g. brand bible and style sheets
Customize the language used in forms so that it fits with your company's vernacular
Automatically route the right data or information to the right people at the right time
Ensure all necessary compliance checks are met before work begins on a new project
Visually track project request progress via an activity timeline e.g you'll see if the project has been approved or assigned to a team member
Easily create reports from all the information collected in forms e.g budget planning reports, resource utilization reports and more.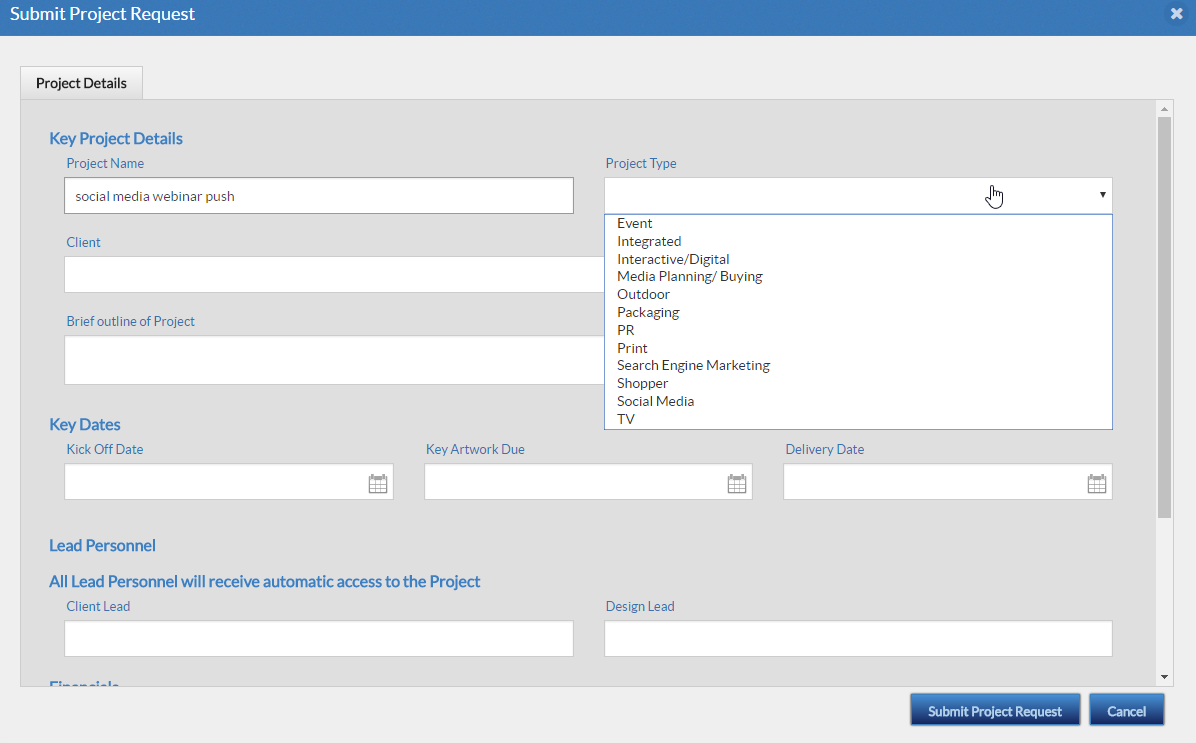 A sample project request form. You decide exactly what information needs to be captured for a particular project.
Project request forms are just one of many powerful features of Screendragon. Our software combines projects, processes and people into one solution to help you manage your work more efficiently and effectively. If you would like a free personalised demo of our software, contact us today.